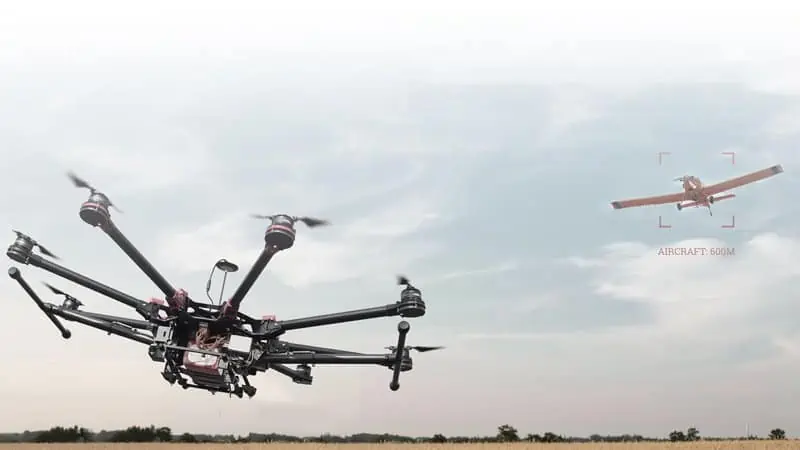 Iris Automation has entered into an agreement with Doosan Mobility Innovation (DMI) and Drone America to use Doosan's hydrogen fuel cell technology as a basis for scalable solutions for long-range, autonomous BVLOS (beyond visual line of sight) UAS unmanned aerial systems) flights. The companies will work together to integrate technologies and share operational resources to test and evaluate drone platforms and infrastructure to support commercial BVLOS operations.
Iris Automation's Casia detect-and-avoid (DAA) system allows UAVs to see and react to the aviation environment around the aircraft, enabling real time airspace awareness during BVLOS flight operations.
Due to its higher energy density over traditional lithium batteries, and zero-emissions profile, Doosan's hydrogen fuel cell technology has the potential to sustainably expand BVLOS drone operations for both commercial and public flight operations. Traditional lithium batteries and fossil fuel-powered propulsion systems are predominantly used in small UAS currently. Battery-powered systems, such as those currently in use, do not produce carbon emissions but are limited in range and capacity. Fossil fuel propulsion systems have longer range, but at the expense of carbon emissions and high environmental noise.
Doosan has been manufacturing fuel cell technology since 2014, and now provides safe, miniaturised fuel cell-powered systems for use in drones. According to the company's research and testing, its UAS hydrogen fuel cells can outperform traditional batteries with an energy density up to four times the current standard. Hydrogen can be produced using 100% renewable energy, and when the fuel cell generates electricity, it emits only water vapor.
Drone America specialises in designing and manufacturing UAS while providing commercial flight services to first responders, critical delivery, and infrastructure surveying and inspections. The company is in the process of developing a fleet of certified above 55lb. aircraft that takes full advantage of Doosan's fuel cell systems and incorporates Iris Automation's Casia for real-time airspace awareness.
Soonsuk (Fran) Roh, manager of Americas and Oceania business development at Doosan Mobility Innovation, commented: "The potential of hydrogen fuel cell drone technology that delivers the endurance and performance necessary to enable autonomous UAV flight, without carbon emissions, is huge. This partnership is an excellent way to jumpstart the progress we can make by collaborating with two pioneers at the forefront of real-world UAV innovation to actually start BVLOS services."
Lori DeMatteis, vice president of sales and marketing at Iris Automation, said: "Getting to higher density, zero-emissions fuel is an important breakthrough for long-range drone operations. As part of the overall drive to scale, it makes commercial operations increasingly viable and cost-effective. Given Doosan and Drone America's leadership in this space and very practical roles in enabling drone operations, we're excited to collaborate."
Mike Richards, Drone America President and CEO, stated: "Shaping the future of commercial BVLOS is not always about one person, but about the team that makes everything happen. From design, engineering, and production to flight services, certification and training, everyone here represents the very best at what they do and a team that Drone America is proud to be a part of."