Sky-Drones, a leading developer of advanced AI-powered avionics for UAVs (unmanned aerial vehicles), has partnered with Unmanned Systems Technology ("UST") to demonstrate their expertise in this field. The 'Silver' profile highlights how the company's connected hardware and software solutions accelerate the development and adoption of unmanned aircraft for enterprise applications.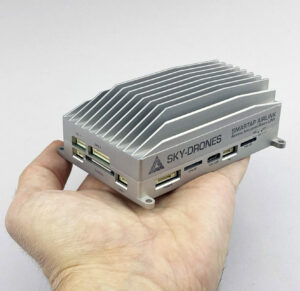 AIRLink (Artificial Intelligence & Remote Link) combines a state-of-the-art drone autopilot, AI-powered mission computer and 4G/5G connectivity to provide an advanced all-in-one flight control solution for enterprise drone operations. BVLOS (beyond visual line of sight)-capable and UTM (unmanned traffic management)-ready, the system can be easily integrated into any type of UAV, including multirotor, fixed-wing and VTOL.
AIRLink is equipped with a 1080p HDR camera for superior image quality, with an external FPV camera connector for quick and easy integration, as well as a separate HDMI interface for payload cameras. The unit also includes USB and I2C / UART connectivity as well as a redundant CAN bus for connecting critical peripherals.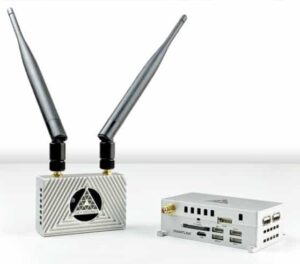 SmartLink is an all-in-one drone data link that provides a convenient combined solution for ultra low-latency transmission of video, control and telemetry signals. Featuring a powerful integrated onboard computer based around the quad-core ARM Cortex-A53, the unit provides a range of up to 20km as standard, with an LTE option available for unlimited range.
The SmartLink Air unit can handle two real-time HD video streams from cameras (CSI and HDMI), supporting up to 1080p @ 60 FPS video input. It also provides a variety of interfaces, including USB, UART, I2C and SPI, allowing users to connect payloads and tightly integrate the system with drone flight controllers.
The SmartLink Ground unit, designed to work with our SmartAP GCS cross-platform ground control station software, can be connected to a wide range of devices, including laptops, smartphones, tablets, and desktop computers. Featuring 2×2 MIMO technology for higher bandwidth and longer range, it allows full manual control of the drone with less than 20 ms latency.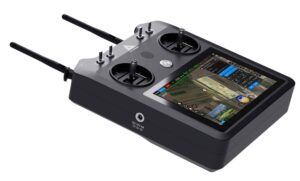 AIRLink Controller is a lightweight, compact industrial-grade handheld drone ground control station (GCS) that includes a powerful integrated Android computer, a broadband datalink, HD Video transmission, and a multipoint touchscreen. The highly ergonomic unit provides high-fidelity Hall-effect joysticks for smooth drone control, and allows easy swapping between manual and autonomous mode with a flip of a switch.
Missions can be planned on the controller without the need for any other computer, with intuitive waypoint selection and parameter adjustment. The unit features two WiFi connections – long-range for drone connectivity, and short-range for downloading maps and uploading logs and captured data. 4G LTE connectivity is available as an option, allowing BVLOS drone control from anywhere in the world.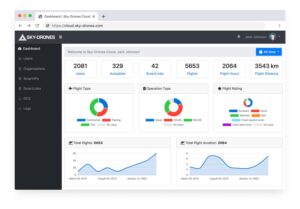 Sky-Drones Cloud is an intuitive web-based application that provides drone fleet management, performance monitoring, mission planning, real-time control and post-flight AI analytics. Designed with an "Everything is Integrated Everywhere" approach in mind, it provides a centralized hub for all information, maximizing the efficiency of commercial drone workflows.
Sky-Drones Cloud is tightly integrated with all Sky-Drones hardware and software products, and drone and payload data can be synced either post-flight, or during the flight with LTE connectivity. A powerful and flexible dashboard interface delivers all major information at a glance, allowing users to quickly estimate fleet performance and make better decisions with confidence.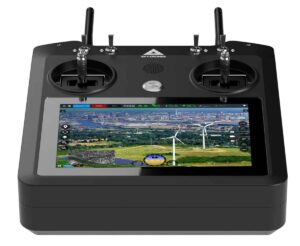 SmartAP GCS allows users to set up a drone ground control station on almost any device running any operating system, providing mission planning, real-time flight monitoring and control, and post-flight data analysis in a single app.
The intuitive user interface allows users to easily create complex flight plans by placing waypoints with a drag-and-drop action and adjusting various mission parameters. Pilots can choose between a full-screen map or live video feed, both with minimal latency and exceptional image quality. SmartAP GCS also supports the simultaneous control of an unlimited number of drones.
The SmartAP GCS drone flight planning software includes integrated services from both AirMap and Altitude Angel, providing enhanced airspace awareness and UTM capabilities.
To find out more about Sky-Drones and their AI-powered avionics for drones, please visit their profile page: https://www.unmannedsystemstechnology.com/company/sky-drones/