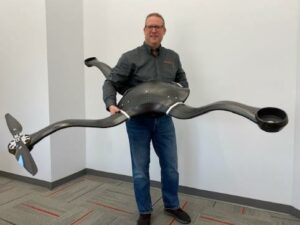 Composite Factory, a leading designer and manufacturer of complex composite structures and assemblies for UAV (unmanned aerial vehicles), military, and aerospace applications, has unveiled a concept UAV airframe that has been specially designed to demonstrate the possibilities for future production chassis.
The demonstrator airframe takes into account key factors that must be considered when drone designs mature beyond early lifecycle stages and head towards full production. These factors, such as parts count and assembly time, can affect the marketability and overall cost of the final product.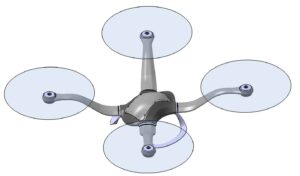 The airframe demonstrator features an enclosed body design that provides protection against environmental conditions such as heavy rain. Their proprietary co-molding of elastomer and composite offers another opportunity for weatherproofing.
Quick-connect functionality allows the legs to be joined to the main body with minimal effort, and internal passageways extending all the way through the drone arms to the motors allow cables to be hidden away and protected from wear and damage. Connectors can be incorporated into the molded-in attachment lugs for true plug-and-play assembly.
The rugged design also incorporates anti-vibration cover fasteners, which are captive to the respective portions of the demonstrator in order to prevent loss when disassembly in the field is required.
With vast experience and skill in UD laminates, fabrics, and long fiber composites, Composite Factory can build custom airframes to meet your unique needs. Fabric and UD laminates are ideal for less complex geometries. Generally, they are best suited for the overall structural components. As complexity increases, but high strength and stiffness are still important considerations, a long fiber composite can meet those needs with similar structural integrity. Unlike fabric or UD laminates, short fiber composite materials perform very well in multidimensional parts, like brackets and lugs opposed to machining them from aluminum, magnesium, or titanium.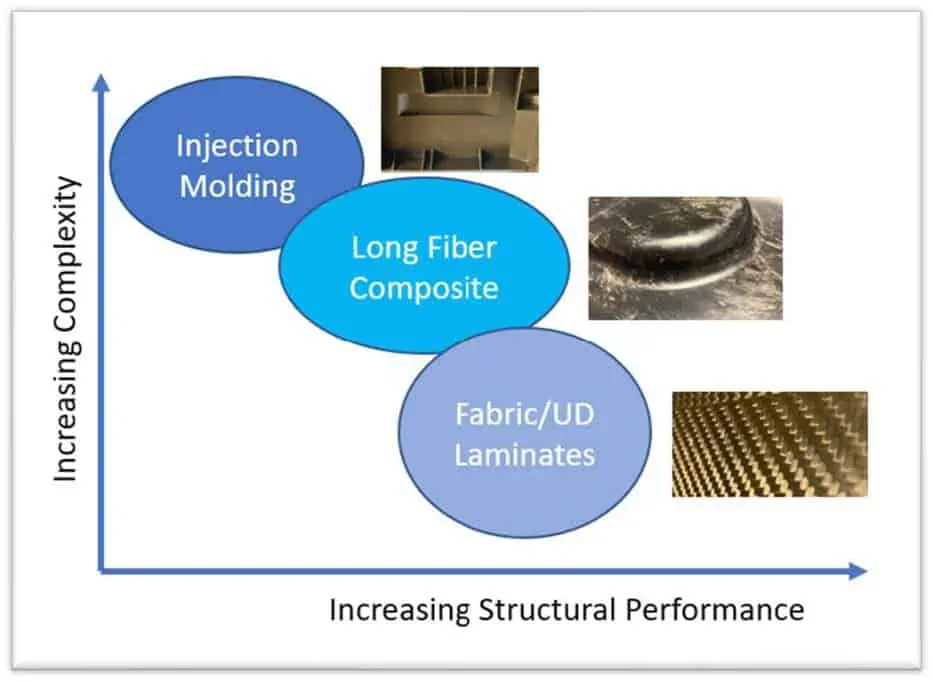 The company can handle the entire lifecycle from design concept through to development and prototyping, and can provide one-offs or entire drone fleets. Composite Factory's design and fabrication expertise is ideal for drone hardware and software developers looking to create their own UAV platform while remaining focused on their core technologies.