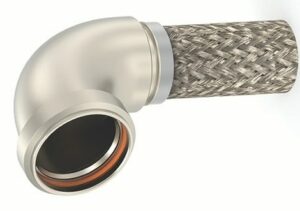 TE Connectivity has launched its new 70 series range of braid tail swept elbow backshells, designed for a wide range of military and aerospace applications such as UAVs (unmanned aerial vehicles) and unmanned systems. The new backshells provide up to 20% weight savings over traditional backshells, allowing for improved efficiency as systems continue to increase in complexity.
TE is complementing its series of banding (BT) and Tinel ring (TXR) backshells with these new braid tail backshells. The new 70 series swept elbow backshells include a pre-terminated screenbraid sock for an overall screen, as well as constant internal radius and a smooth internal bore using investment casting. They are designed to allow for uncoupling during repairs, which helps reduce damage to the boot, resulting in a simple and fast termination option.
TE's 70 series swept elbow backshells suit a wide range of circular connectors. They are available in multiple shell sizes and plating configurations, including MIL-DTL-38999 series III and IV as well as MIL-DTL-26482 series II.
Carina Logan, product manager for TE's Aerospace, Defense and Marine division, noted: "Aerospace and defense engineers require increased flexibility when it comes to designing for compact spaces. Our 70 series braid tail swept elbow backshells offer weight saving advantages over traditional backshells. These backshells also offer overall 360° screening against EMI/RFI for customers in high vibration applications using high-reliability, low profile magna form ring termination."