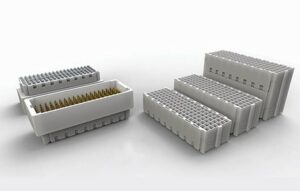 TE Connectivity has introduced the Mezalok High-Speed Low-Force (HSLF) XMC connector, designed to support data rate speeds up to 32+ Gb/s for improved signal processing on embedded computing systems in applications such as UAVs (unmanned aerial vehicles) and robotics.
Engineered specifically for mezzanine applications, the connector meets legacy Mezalok high speed connector qualifications and uses a rugged dual point contact system. It also meets the same rugged standards as VITA 47 and VITA 72, featuring a wide operating temperature range and excellent thermal stability with VITA 42.3 pinout.
The highly reliable Mezalok HSLF uses the ball grid array printed circuit board surface mount. The 114-position connector is compliant to VITA 61 standards and additional positions and stack heights are available.
Other features of the Mezalok HSLF connector family include:
Unmating force reduction of 47%
Mating force reduction of 32%
Rugged dual-point contact system
Multiple position options – 60, 114 and 320
Multiple stack height options – 10, 12, 17 and 18 mm
Jason Dorwart, product manager for TE's Aerospace, Defense and Marine division, commented: "Technology changes rapidly and it's always important for us to quickly adapt and solve for market needs. We know signal integrity strength is crucial for reliable high-speed signal transfer within the environments this type of connector is used. We also designed this particular connector to be easier to remove from the board and are truly excited to continue on with our Mezalok connector legacy by introducing our low-force product offering."