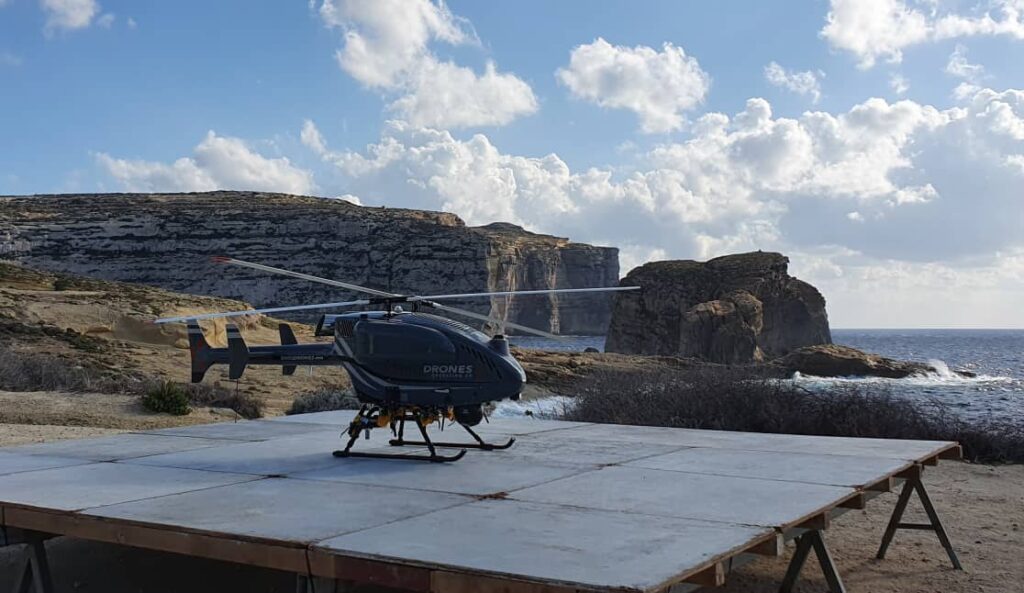 SwissDrones has conducted a series of long-range Beyond Visual Line of Sight (BVLOS) flights with its helicopter UAV unmanned aerial vehicle) platform, in conjunction with Transport Malta Civil Aviation Directorate (Transport Malta) and the country's Civil Aviation Authority (CAA).
The flights were performed over water to trial applications such as maritime patrol, search and rescue, and surveillance missions. During the trials, communication and sensor payloads were also tested.
Building on the country's long history of maritime aviation, Malta aims to position itself as a global hub for drones and advanced air mobility (AAM). The SwissDrones flight operations were enabled through close coordination with Transport Malta, Malta Communication Authority, Malta Air Traffic Services, Enterprise Malta, Indis Malta, and the San Lawrenz local council. All operations were executed in accordance with European Union Safety Administration (EASA) regulations for unmanned aircraft under the Specific Category, with full authorization from Transport Malta.
The platform utilised for the tests was the SDO 50 V2 Vertical Take-Off and Landing (VTOL) unmanned helicopter system. This UAV is designed for a multitude of long-range missions in adverse weather conditions, day and night, at high altitude, and a large spectrum of temperatures, without any risk to the crew.
The aircraft's unique design features provide superior payload capacity (45 kg/99 lbs, including fuel), long endurance (3+ hours), stable flight patterns, the ability to carry single or multiple high-quality sensors, and a high degree of safety features. An integrated autopilot system enables autonomous take-off and landing procedures as well as autonomous flight patterns.
The SDO 50 V2 uses the Flettner system of intermeshing twin rotors turning in opposite directions. Each rotor mast is mounted at a slight angle to the other, allowing the blades to intermesh without colliding. This design enables its superior payload capacity, prolonged endurance, and stable flight patterns. It also allows the helicopter to function without a tail rotor, which saves power and allows for a significantly higher payload to weight ratio.
Ulrich Amberg, CEO of SwissDrones, commented: "The Malta archipelago offers an ideal geographical location for flight testing in demanding maritime conditions over long distances. Additionally, the nation is a growing hub for robotics and aviation with world-class infrastructure and excellent government support, making it perfectly suitable for establishing a new base of operations."
Charles Pace, Director General for Civil Aviation at Transport Malta CAD, said: "We are impressed with SwissDrones' meticulous and professional approach to conducting flight operations, as well as the unsurpassed engineering and quality of their aircraft. We thank them for selecting Malta for their maritime testing and validation and look forward to ongoing collaboration."
Arangan Varatharajah, Head of Flight Operations at SwissDrones, stated: "It has been a pleasure working with the Government of Malta. Each entity has been incredibly responsive and supportive throughout the entire application processes and we look forward to working closely together in an ongoing capacity."