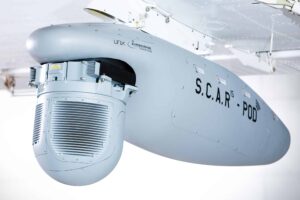 Sentient Vision Systems and Airborne Technologies GmbH have partnered to design and build new airborne search and surveillance pods to carry Sentient's ViDAR optical radar. The pods will be used for daytime and nighttime maritime surveillance and Search and Rescue (SAR) applications.
Demand for airborne ISR capabilities has risen in recent years, largely driven by the border and maritime patrol sectors and the increase in use of UAVs (unmanned aerial vehicles). Sentient's software-based ViDAR (Visual Detection And Ranging) system has already been proven in service in such roles, enabling operators to cover a search area up to 300 times greater than an aircraft or UAV without ViDAR.
The ViDAR AI and computer vision software scans the 180 degree electro optic and/or infra-red sensor's imagery feed to detect targets invisible to a human operator. It then places a thumbnail image on the operator's screen showing the bearing and range of the target, allowing for an automated cross-cue by the inspection turret. When searching for a person in the water, ViDAR is up to 100 times faster than traditional search techniques, meaning more lives saved and lower mission costs.
Airborne Technologies will engineer the ViDAR SCAR-Pod design and its universal mount system to allow multiple airframe fitments. The pods will be certified to EASA (European Union Aviation Safety Agency) standards and provided with a Supplemental Type Certificate (STC) for the target platforms as well as being DO-160 compliant. The pods will carry the full ViDAR suite of ultra-high resolution electro optic and infra-red cameras as well as image processing hardware, providing a fully integrated system.
Dr Paul Boxer, founder and Managing Director of Sentient Vision Systems, commented: "Sentient and Airborne Technologies have had a long productive relationship providing airborne surveillance solutions. We are very pleased to be working with Airborne Technologies on this compelling ViDAR development. This collaboration will provide a fully certified, integrated Optical Radar capability for maritime search and surveillance operations throughout the world."
Wolfgang Grumeth, CEO of Airborne Technologies, said: "A fixed installation of the ViDAR system is already flying on the Viking Twin Otter ISR demonstrator. This technology is a "must-have" for state-of-the-art SAR operations. Therefore, we are keen to offer the ViDAR system also as a flexible solution as part of our SCAR-Pod family, providing additional surveillance capabilities for existing rotary and fixed wing fleets, without extensive modification effort."