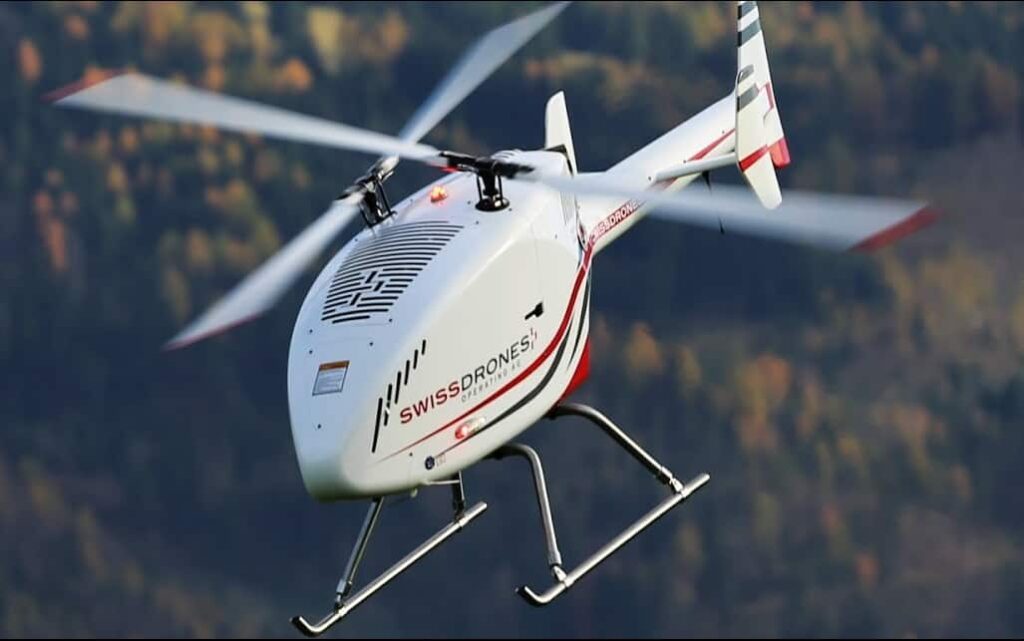 SwissDrones has launched the SDO 50 V2 multipurpose Vertical Take-Off and Landing (VTOL) helicopter UAV (unmanned aerial vehicle) in the Asia-Pacific region. The SDO 50 V2 can be operated BVLOS (beyond visual line of sight), and has a payload capacity of 45 kg/99 lbs (including fuel) and a flight endurance of over 3 hours.
The SDO 50 V2 is available in the Australian and Asia Pacific markets through Éire Aviation, a company with a long history in the manned aviation sector. The company specializes in opening new markets to new technologies, not only through sales but with a full range of services, including auditing, strategic advisory and operations.
The SDO 50 V2 uses the Flettner system of intermeshing twin rotors turning in opposite directions. Each rotor mast is mounted at a slight angle to the other to allow the blades to intermesh without colliding. The unique design provides a superior payload capacity, prolonged endurance, and stable flight patterns. This arrangement also allows the helicopter to function without a tail rotor, which saves additional power and allows a significantly higher payload to weight ratio.
The unmanned helicopter can operate over long distances without the need for infrastructure and with only minimal ground support. It can be easily transported to the work location via van, from which two crew members can deploy it in less than 15 minutes and with little to no infrastructure required.
Since the SDO-50 V2 can operate on a number of different fuel types, fuel planning is not as restrictive a requirement as with traditional rotorcraft types. This can eliminate fuel diversion requirements, and results in 90%+ less CO2 emissions than typical manned platforms, all while offering comparable endurance and sensor payload capacities.
Ulrich Amberg, CEO of SwissDrones, commented: "Our unmanned aerial solutions were made for long-range missions in adverse weather conditions, day and night, at high altitude, and a large spectrum of temperatures – all without any risk to the crew."
Ronnie Fahy, CEO of Éire Aviation, said: "Not only are the SDO 50 V2's features and capabilities ideally suited for the unique demands of Australia and the Asia Pacific region, but it also offers the same sensor payload performance as a manned helicopter without the inherent limitations. The aircraft is the perfect payload, safety, technological and performance unit for the geography and use cases required in the APAC region."
Luca Santini, Head of Sales for SwissDrones, commented: "When working with SwissDrones you have a safer and cleaner alternative to traditional manned rotorcraft missions. We see this as being a real game-changer for firefighting, emergency services, oil and gas, maritime patrol, and infrastructure inspection missions happening in Australia and throughout the Asia Pacific region."