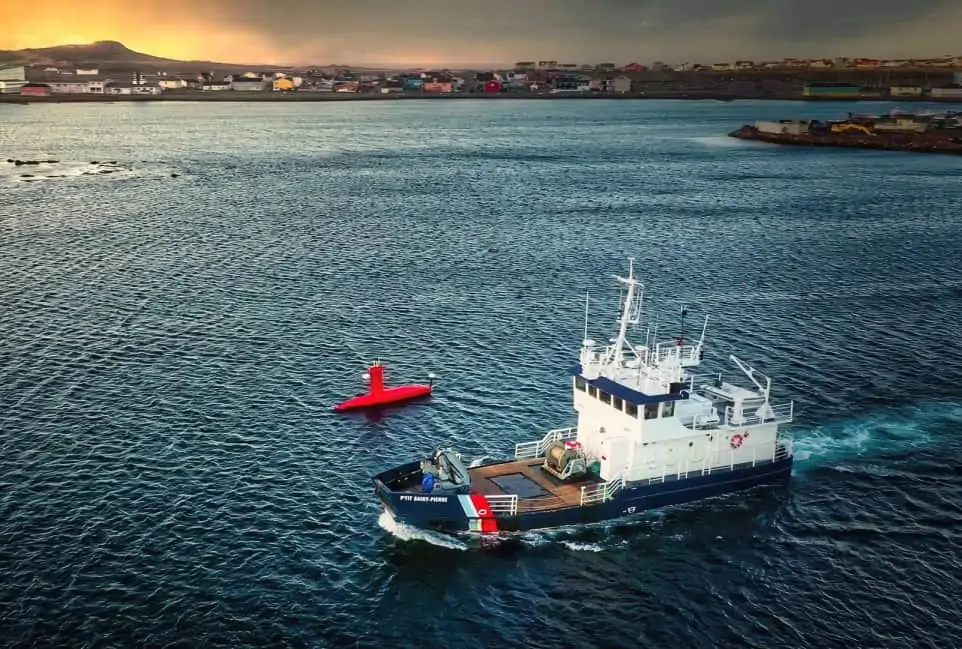 A DriX unmanned surface vessel (USV), designed, developed and operated by iXblue, has been deployed as part of a research campaign that is attempting to find the wreck of the Ravenel fishing trawler, which disappeared in January 1962 off the coast of Saint-Pierre-et-Miquelon, France.
After leaving port, the Ravenel disappeared after 8 days of sailing, and despite several attempts to locate the wreck, it has never been found. The use of the DriX USV represents an unprecedented technological capability that it is hoped will enable this latest mission to be a success.
Descendants of the missing sailors, in conjunction with teams from Meteo France (the French national meteorological service) and the Department of Underwater Archaeological Research (DRASSM), have used collected information and documentation to define a search area of 439 km². The DriX USV has begun autonomously mapping the seabed of this newly defined area, looking for clues to the location of the wreck such as parts of the vessel.
The DriX USV is in constant contact with both a shore base and an accompanying vessel, operating 24 hours a day while being supervised by three iXblue surveyors. Four government-owned vessels take turns to accompany the USV: a French Navy Fulmar patrol boat, the P'tit Saint-Pierre from the Armement des Phares et Balises (French Lighthouse and Beacon Services), the Charente from the Service des affaires maritimes et portuaires (SAMP) of the Préfecture de Saint-Pierre et Miquelon, and a vessel from the Gendarmerie Nationale.
Canadian authorities have also issued authorization for the mission to search in their international waters, and have offered their assistance in this research for a total of one month.