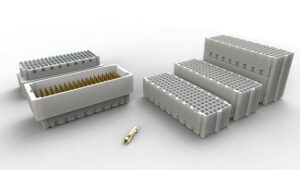 TE Connectivity has upgraded its rugged high-speed Mezalok mezzanine connector family in order to support the growing demand for higher data rates and improved processing power in military applications such as UAVs (unmanned aerial vehicles) and robotics. The upgraded connectors, designed specifically for mezzanine cards in rugged applications, now support data rates of 32+ Gb/s.
TE designed the Mezalok connector family to provide additional functionality and processing capability within a small form factor. Typical applications include application-specific high-speed input/output (I/O) protocols, graphics, memory and digital-signal processing.
The rugged, surface mount mezzanine connector incorporates a redundant "mini-box" four-point contact system based on the M55302 standard for separable interfacing, and offers excellent signal integrity up to 32+ Gb/s. LCP plastic housings offer thermal stability and are low-outgassing. In addition, compliant Ball Grid Array (BGA) board attachment supports standard surface mount processing and excellent thermal stability with a contact design that provides robust, uniform solder joints.
The TE Mezalok connector family also features:
Protected socket end for reliable blind mateability
Optimal thermal stability to 2,000 thermal shock cycles
Multiple positions – 60, 114 and 320 (114 position is the XMC 2.0 standard)
Multiple stack heights – 10,12,15,17 and 18mm
Low extraction force product lines launching in summer 2021
Jason Dorwart, product manager for TE's Aerospace, Defense and Marine division, commented: "New designs in rugged embedded computing require higher speeds and high pin counts in order to pack more functionality into smaller plug-in modules. TE recognizes this trend and is continuing to build on this platform to help solve customer needs, offering new options in stack height, pin density and higher speeds, giving the system designer a broader solution set to work with when needing a fast, rugged and reliable mezzanine connector for extreme environments."