In this article, Dan Hirshberg from Warren Community College, New Jersey speaks with soon-to-be graduates from Warren's first drone training degree and learns of their plans for the future.
James Unterwald and Amy Rodriguez haven't officially graduated with an Associate in Unmanned Air System/Drone degree yet, but the Warren Community College students are already seeing the fruits of their efforts pay off.
Unterwald, who lives in Stewartsville NJ, will start a new job as a Lead Technician at Tracer Drone Technologies in Easton, in June, shortly after he gets his degree. Rodriguez, of Hackettstown, has been hired by realtors to take aerial photos by drone.
They are two of several students expected to be the first graduates this May of Warren's nationally recognized drone program.
"I thought this would be something fun to do until I retire," said Unterwald, who is 42. "I wasn't sure what to expect. It's changed my life dramatically."
Rodrigues, like Unterwald considered a "non-conventional" college student, took an initial course with her son Joey as a way to find something to do after rupturing her Achilles tendon and other health issues put her real estate career on hold.
"I ended up really enjoying it so much," said the 52-year old Rodrigues, who ironically graduated from Warren in 2005 with another degree. "It's more than just flying (a drone). This is above and beyond where I thought I was going with this."
So much goes into being a professional drone technician or pilot, added John Merrill of Washington. "There's a lot of planning – What is the weather? Terrain? Altitude?" he said. "A lot of teamwork and advanced planning."
The drone training program at Warren was established four years ago as Unmanned Aircraft Systems (UAS) operations became more and more prominent in a growing list of fields, from photography to inspections, to agriculture, to national defense, to law enforcement, and search and rescue. Soon, package delivery by companies like UPS and Amazon is expected to be another advancement of the industry.
To aid its quickly growing program, the college built a state-of-the-art training laboratory, a one-of-a-kind outdoor flight training center, and a drone race track. Warren has been recognized by several national training partners as one of the most advanced training programs and has earned numerous FAA Part 107 waivers allowing for truly advanced operational training.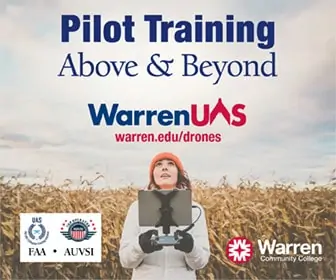 Few colleges offer UAS degree programs and Warren is considered among the elite, with certifications from AUVSI, ASTM, and as a member of the FAA's UAS Collegiate Training Initiative.
"There is such a broad spectrum as to what you can do (with this degree)," said Merrill. "I like to work with my hands. For me, eventually I want to work with a company that builds drones."
"There are a lot of options," added Connor Kelly from Great Meadows, who is considering transferring to a 4-year college to advance his educational credentials in the field. "It's incredibly interesting and you really have to keep up with what's new because the technology is changing so fast."
Unterwald is convinced that the education he's received at Warren is the number one reason he was able to get a job so quickly.
"The knowledge what I've learned here gave me extra clout when I went into that first interview," he said. "There was so much I knew already that it made it easier I think for them to see me as someone who could step right in."
"We do everything we can to get our students ready for the workforce," said
Dr. Will Austin, President of Warren and the college's Chief Pilot. "They have learned about the industry from top to bottom, from procurement, to building drones from component parts, to programming robotic systems, and yes advanced UAS piloting skills. They've flown just about every commercial drone the vast majority of the industry might use." To ensure graduates even more successful, the college uses flight simulation, and expands their value to the industry with photogrammetry and GIS skills.
The Class of 2021 drone graduates will be Warren's first, and in many ways, among the aviation pioneers of a burgeoning industry.