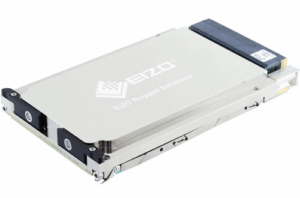 EIZO Rugged Solutions has has released two new products in its Condor GR2 family of ruggedized 3U VPX graphics and GPGPU cards based on the NVIDIA Turing architecture. The new cards, featuring either the Turing Quadro RTX 3000 or Quadro RTX 5000 are ideal for real-time data computing and transfer applications in rugged environments, such as UAV (unmanned aerial vehicle) and unmanned systems Digital Signal Processing (DSP), Electronic Warfare (EW), and Signal Intelligence (SIGINT).
Both variants support three video outputs, with two output configurations using either DisplayPort++ or single-link DVI-D. The NVIDIA Turing architecture offers CUDA parallel processing cores that supply capabilities such as mesh shading, variable rate shading, texture space shading, multi-view rendering, and offers multiple precision modes. The added cores support rugged AI at the edge, which allows defense developers to take advantage of GPGPU computing to implement deep learning and AI inference capabilities in their next-generation designs.
The cards deliver real-time performance for encoding applications with dedicated H.264 and H.265 encode engine (NVENC) and a dedicated decoding core for playback (NVDEC). GPU memory can be used to carry out advanced processing such as image analysis, image enhancement, 360-degree video stitching, sensor fusion, and target detection using GPGPU (CUDA / OpenCL), all with extremely low latency.
Both products are available as air-cooled or conduction cooled variants with thermal-efficient heatsink technology. With multiple output configurations, the 3U VPX cards offer I/O customizations with options that include DisplayPort++, single-link DVI-D, and VGA using EIZO Rugged Solutions' Adapt video converter.