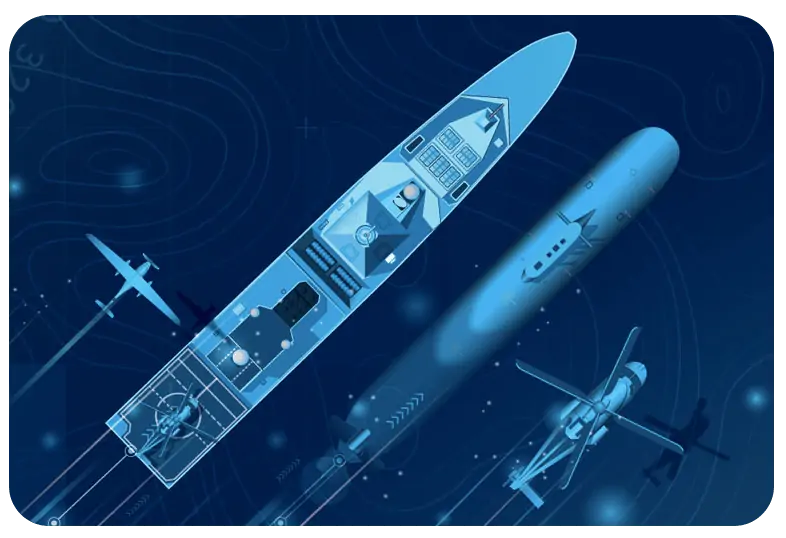 The Euronaval 2020 naval defense exhibition took place entirely digitally for the first time in the show's history, featuring 7 days of online meetings, web conferences, round tables, webinars and workshops. With more than 10,000 virtual visits to the Euronaval online platform, the success of the exhibition highlighted several advantages of the new digital format.
Audiences for the various workshops, conferences and round tables were larger overall than at previous classic editions of the exhibition, particularly for presentations made by exhibiting industry players. The organisers have noted that the digital exhibition has been of greater benefit to small and medium-sized companies, which are usually less visible than large enterprises at traditional trade fairs, and that a good number of new foreign companies chose to exhibit at the digital show that had not previously exhibited at the classic show at the Le Bourget centre in Paris.
A number of high-profile French political, industrial and military figures spoke at the inauguration of the digital exhibition, including:
Florence Parly, Minister of the Armed Forces
Annick Girardin, Minister for the Sea
Agnès Pannier-Runacher, Secretary of State for Economy and Finance
Françoise Dumas, President of the Defence and Armed Forces Committee of the National Assembly
Christian Cambon, Chairman of the Foreign Affairs, Defence and Armed Forces Committee of the Senate
Admiral Jean-François Querat, Deputy Secretary-General for the Sea
Joël Barre, Chief Executive of the Direction Générale de l'Armement (DGA)
Admiral Pierre Vandier, Navy Chief of Staff
Mr Hervé Guillou, president of GICAN (Groupement des Industries de Construction et Activités Navales) and Euronaval
At the time when the decision was made to transform Euronaval into a digital trade fair, just three weeks before the opening, nearly 300 exhibitors and 77 delegations had already confirmed their participation. More than two-thirds of these then decided to join the digital exhibition that was subsequently offered. They were joined by new exhibitors, together totalling more than 280 exhibitors and 59 official delegations from 31 countries.
Hugues d'Argentré of Euronaval commented: "Our wish was to offer exhibitors, delegations and visitors a digital experience as close as possible to that of a classic Euronaval exhibition. We built it with our partner J2C Communication as Euronaval's digital double. We even went so far as to experiment, organising BtoG (business to government) meetings between exhibitors and official delegations. We wanted them to benefit as
much as possible from the same personalised services as in previous editions of Euronaval, with tailor-made support to promote synergies."
Some of the highlights of the Euronaval online enhibition included:
Presentation of a new study entitled "World defence shipbuilding (2015-2019)", carried out by Jane's and the GICAN, which offers a global vision of world defence shipbuilding and major trends.
A conference on export markets and strategic partnerships organised in partnership with the FRS, with general engineer of armament Thierry Carlier, Director of International Development for the DGA.
A round table on the European Union's maritime strategy, bringing together the SGMer and executive directors from the three European agencies Frontex, European Fisheries Control Agency and European Maritime Security Agency.
Four round tables, organised by Cyber Naval Hub in partnership with CEIS, giving the floor to the companies present on the pavilion as well as to expert speakers and major industrialists.
The SEAnnovation space, organised in partnership with Starburst, which welcomed around thirty French and foreign start-ups. This pavilion broadcast four round tables on the major subjects of the Special Forces' operational needs, economic support to the French naval innovation sector and innovation for operational maintenance, and the future of naval aviation.
Five webinars organised by the Trade Vessel and the Naval Industry Campus, presenting the many facets of naval industry professions (production, design technicians, engineers, robotics & cybersecurity and women in the maritime industry). 1000 young people were able to attend these webinars and put questions to naval industry professionals present on stage and online.
Hervé Guillou, President of the GICAN and Euronaval, said: "We all regret that we were not able to see the classic organisation of the Euronaval 2020 exhibition through to its end. The digital exchanges probably don't have the intensity and humanity of a handshake, a face to face meeting or a moment shared in person. However, we are pleased and proud to have been able to maintain the essential, useful and necessary export support for the French, European and world shipbuilding industries. I would like to thank the exhibitors and sponsors who put their trust in us and followed us on Euronaval Online. To all our partners, and especially to the small team at SOGENA, I offer my warmest congratulations for creating and running Euronaval Online in such a short time and under particularly difficult conditions."