Steadicopter, a leading designer and manufacturer of fully autonomous rotary unmanned aerial systems (UAS), has partnered with Unmanned Systems Technology ("UST") to demonstrate their expertise in this field. The 'Gold' profile highlights how their unmanned helicopters, designed to be operated even by inexperienced pilots and constructed to meet stringent military requirements, can be used for a variety of defense, homeland security and civil applications.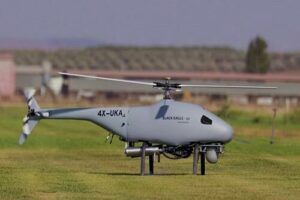 The Black Eagle 50 is an advanced unmanned helicopter designed to provide situational awareness and ISTAR (intelligence, surveillance, target acquisition and reconnaissance) capability in both the land and maritime domains. The two-person portable, rapidly deployable system features fully autonomous VTOL and flight operation, and is powered by a proprietary flight computer certified to ADS-33 standards. The unmanned helicopter can operate in a number of flight modes, including highly stable hovering for ultra-clear image acquisition, and can also automatically return home in the event of communications loss.
The Black Eagle can be fitted with a variety of EO/IR camera payloads for day/night operations, including the STAMP families of stabilized cameras from CONTROP. Additional payload options include COMINT (communications intelligence), SIGINT/ELINT (signals/electronic intelligence), AIS (automatic identification system), and SAR & MPR (synthetic aperture radar & maritime patrol radar). Flexible options for analogue and digital data links are also available, including communications systems from leading manufacturers such as Spectralink and Commtact.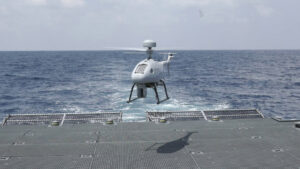 The Black Eagle 25E and 50E are electrically-powered variants of the proven Black Eagle 50 platform, designed to provide situational awareness for a wide variety of military, security and civilian applications. With an extremely low logistical footprint, both electric UAVs are especially ideal for demanding maritime applications, such as anti-piracy, search and rescue, and offshore cargo delivery. They are IP67-rated for operation in even the harshest maritime environments, and can be operated from the busiest and most space-constrained offshore platforms.
The electric conversion has resulted in significantly reduced aircraft weight, providing additional capacity for extra batteries and heavier payloads. Electric power also makes the UAVs simple to operate and easy to maintain, and with no need for fuel storage, they are safer and more environmentally-friendly.
The Black Eagle 25E electric drone is designed for takeoff weights of up to 25 kg, making it suitable for tactical and urban missions and adhering to strict weight and category regulations. The Black Eagle 50E, weighing up to 35 kg, provides a high-performance flight envelope with a wide range of mission payloads, allowing a high level of mission versatility for covert operations.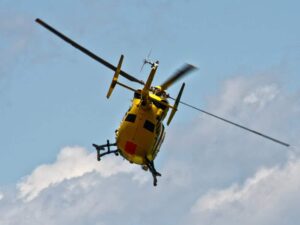 Steadicopter also provides a kit for converting manned helicopters into unmanned platforms, based on unique stabilization and control technology that can be implemented on any helicopter of any size. As part of the conversion process, the extra space and weight savings due to the lack of pilot and instruments can be used to add additional fuel tanks or heavier payloads.
Steadicopter's highly experienced and qualified team of engineers can handle the entire end-to-end process in-house, including flight tests, acceptance tests and ongoing support for any converted rotorcraft.
To find out more about Steadicopter and their high-performance helicopter UAVs, please visit their profile page:
https://www.unmannedsystemstechnology.com/company/steadicopter/