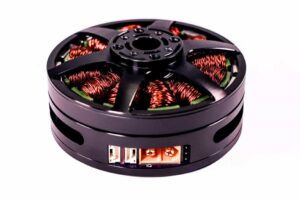 IQ Motion Control has launched the Vertiq 6806, a high-performance motor module for commercial UAVs (unmanned aerial vehicles) and robotics. The company, which is a spinoff from the University of Pennsylvania's robotics lab, claims that the new module is the first such commercial-grade UAV and robotics product in its class.
Designed for size- and weight-constrained drone and robotics applications, the module combines unique hardware design and proprietary software to provide maximized torque output, efficiency, and precision, while minimizing motor vibration, cost, and footprint. The closed-loop motor control technology allows UAVs to change direction, stabilize, and brake up to four times faster.
Although the Vertiq 6806 has been designed for UAV propulsion, the system's advanced position firmware makes it a highly suitable servomotor for precision robotic applications. The smooth, high-torque motors enable the creation of extremely compact, high-performance robotic devices.
The Vertiq 6806 can report a wide range of motor data, allowing users to closely monitor performance during operation for enhanced reliability, as well as to use the data for preventative maintenance.