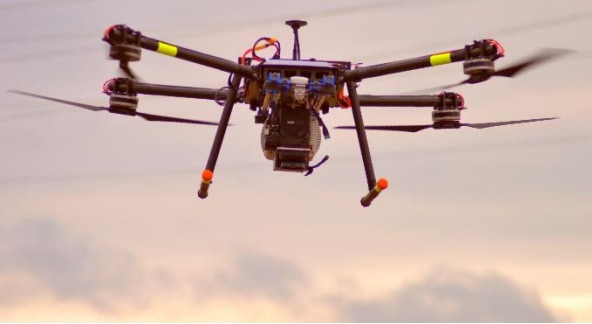 GGS has released a paper outlining the company's use of unmanned aerial systems (UAS) and sensor fusion technologies for the detection and monitoring of wildfires. The research project was undertaken as part of a program founded by the German Ministry of Traffic and Data Infrastructure, and used 5G technology and a combination of visual and thermal images captured by drones to perform automated analysis and detection of hotspots in a rural region of East Germany.
The target region for the project was a flat, dry area covered with pine and oak trees growing in sandy soils, where wildfires are a serious risk. Traditional methods of fire monitoring and management, typically involving human observers and small manned aircraft, are time- and cost-intensive, and are neither centrally managed nor automated.
GGS' solution for improved monitoring involves a combination of static observation poles and a fleet of specially equipped multirotor UAS known as Firebirds. The Firebird was developed by GGS to provide extended endurance capabilities of up to an hour while carrying a dual visual/thermal camera payload on a three-axis gimbal. A number of modifications were made to enhance the efficiency of the Firebird UAS, such as the mounting of the aircraft's rotors in a pusher configuration and the replacement of standard lithium polymer battery packs with cylindrical lithium ionic cells.
Machine learning algorithms were applied to the data captured by the Firebird drones, in order to differentiate between a real fire and other possible incidents. GGS believes that the technology could be applied to other applications, such as the monitoring of rivers and dams to provide flood warnings.
To find out more about the UAS wildfire monitoring research project, download the full paper here.