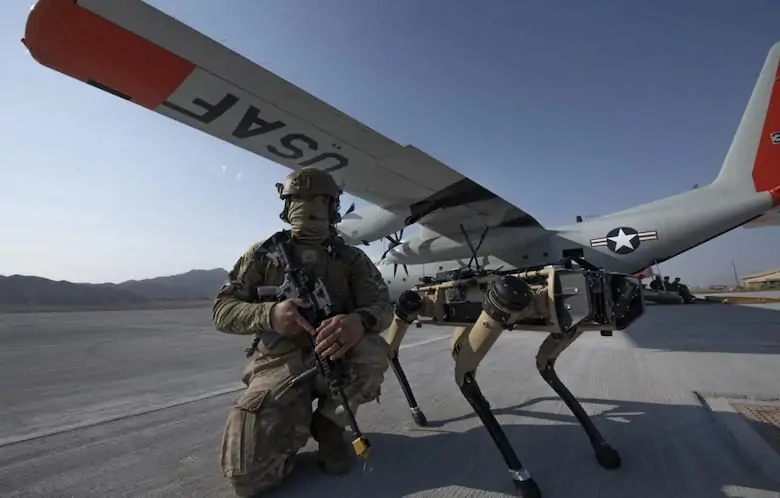 Silvus Technologies' radio technology has been utilised during the US Air Force's second Advanced Battle Management System (ABMS) On-Ramp Experiment, enabling airmen to command and control Ghost Robotics V60 legged UGVs (unmanned ground vehicles) located at Buckley and Nellis AFBs from remote locations. This event marks the first time that an unmanned quadruped robotic system has been used to secure a forward-deployed air base in a simulated hostile environment.
Use of Silvus' radios allowed local control of the remote unmanned vehicles without the need for internet connectivity, as well as connection of two geographically diverse mesh networks at Nellis AFB and Buckley AFB. Integration of the Ghost Robotics V60 Quadruped, the Immersive Wisdom software suite, and the warfighter into a single mesh network played a critical role in providing network connectivity during the experiment.
An increased role within the ABMS architecture allowed Silvus to provide command and control, video, and position location information in a flexible mesh network in distinct geographic regions. With the expansion of MANET (mobile adhoc networking) technology in mid-tier operational experiments, the ability to provide critical wireless network support for ABMS will enable ongoing participation in the Department of Defense's JADC2 (Joint All Domain Command and Control) and C3 (command, control, and communication) modernization efforts.
Andy Narusewicz, Director of DoD Programs at Silvus Technologies, commented: "We are extremely humbled to play such a critical role in taking ABMS from theory to reality. The Air Force has demonstrated that modernization to this extent requires bold vision and a commitment to excellence. Silvus continues to lead the industry in cutting edge MANET and MIMO development, providing unmatched performance and flexibility to our customer's mission. A testament to our technological advancement is our inclusion into a group of world-class partners, like Ghost Robotics and Immersive Wisdom, together providing a glimpse of what the future of ABMS holds for our warfighters."