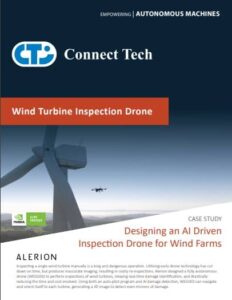 Connect Tech has released a case study highlighting how its Rogue-X Carrier Board for the NVIDIA Jetson AGX Xavier AI computation platform has been used in the development of an autonomous drone that provides rapid inspection of wind farms to find damaged turbine blades.
Download the full case study from Connect Tech's website here
Manual inspection of wind turbines can be a long and dangerous process, and low-end drone solutions can produce inaccurate imaging results, necessitating costly reinspections. Robotics firm Alerion designed the WEGOOI drone to perform inspections with the aid of sophisticated auto-piloting and AI-based imaging, relaying real-time 3D damage identification down to the micron level and drastically reducing the time and cost involved.
Alerion realised that a fully autonomous high-accuracy solution would require significant computing power, and that an edge computing device would be the most suited platform to build their drone around. They selected the NVIDIA Jetson AGX Xavier, as it provides 32 TOPs of performance and a 512 CUDA core Volta GPU with 64 Tensor cores. The advanced computing platform runs deep neural networks that calibrate the information provided by a 3D LiDAR scanner mounted on the drone, and combine this information with high-resolution images. The end result is a full
color 3D image of every turbine.
Connect Tech was approached to provide a carrier board that would house the Jetson AGX Xavier module and bring out connectors for the drone's XIMEA high-resolution cameras. The Rogue-X had previously passed verification testing with XIMEA equipment, and Connect Tech developed a customized board support package for Alerion that provided software to support the cameras on the Jetson platform. The ability to utilize off-the-shelf hardware allowed Alerion to quickly complete the prototyping stage and bring a final production version of the fully autonomous drone to market.
To find out more, download the full case study from Connect Tech's website.