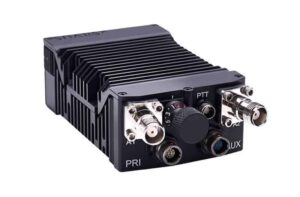 Silvus Technologies' MN-MIMO (Mobile Networked Multiple Input & Multiple Output) radio technology has been integrated into Unmanned Systems and Solutions' (USaS) LEAP tethered unmanned aerial system (UAS). The new integration allows first responder, military and private users of LEAP to take advantage of robust and powerful meshed networking capabilities.
The MN-MIMO technology in the Silvus 4200 and 4400 series radios provides tactically secure data and video communications for military, law enforcement and broadcast applications. Silvus radios can transmit high-speed data and HD video over long distances with up to 8 Watts of native output power, with the effective performance of a 32-Watt radio thanks to Silvus' unique TX Eigen Beamforming technology.
USaS's LEAP (Long Endurance Aerial Platform) tethered UAV delivers 24+ hour uninterrupted surveillance missions, featuring a 20+ pound payload capacity and UAV-to-ground data communication rates exceeding 10 Gb/sec. The platform can be controlled and payload data can analysed in real time from a remote centralized command center, with beyond visual line of site (BVLOS) operation where allowed.
When combined, the Silvus 4200 and 4400 radios and the USaS LEAP system provide unmatched persistent aerial mobile networked communications and surveillance capabilities in rugged, rapidly changing environments. Deploying a StreamCaster radio 400 feet or more above an operating environment allows LEAP to address many of the limiting factors of wireless technology, including line of sight limitations and interference. The systems can also be expanded to form an aerial communications mesh network to cover a larger urban or rural area.
Kasey Cooper, Silvus Technologies Director of Unmanned Systems, commented: "Collaborating with industry-leading, like-minded organizations is crucial to our mission of delivering longrange, mobile and non-line-of-sight communications with unrivaled performance. Enabling USaS's platform with our MN-MIMO technology allows us to deliver unmatched range, multi-mission capability, robustness and throughput in even the harshest, most challenging environments."