Teledyne CARIS, a leading developer of software for the marine GIS community, has partnered with Unmanned Systems Technology ("UST") to demonstrate their expertise in this field. The 'Platinum' profile highlights how their high-efficiency resource optimization and data processing solutions can be used with mapping and surveying platforms such as autonomous underwater vehicles (AUVs) and unmanned surface vehicles (USVs).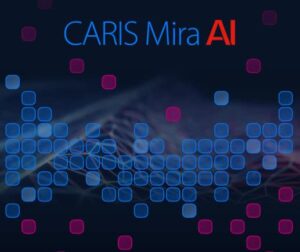 CARIS Mira AI is a state-of-the-art scalable cloud-based platform specifically engineered to host Teledyne CARIS' current and future artificial intelligence (AI)-based software solutions. Based on Amazon Web Services (AWS), this robust environment requires no additional desktop hardware in order to benefit from powerful future-proof data processing services. To ensure the utmost safety and security, all data sent to the platform is anonymized, randomized and encrypted before transmission. Following the AI classification process, data is then completely removed from the cloud.
CARIS Mira AI leverages powerful advances in deep learning and machine learning to provide high-performance data processing that can be seamlessly integrated into any workflow. The platform handles limitless amounts of data across three dimensions, including one-dimensional time series, two-dimensional grids, and three-dimensional point clouds.

CARIS Mira AI automatically pre- and post-processes data to transform it into high-resolution 3D voxel grids suitable for Deep Learning models, and back again. As an additional benefit, this process completely anonymizes the data, stripping all spatial information during the voxelization process before transmission. Once the classified voxels are returned from the AI, CARIS Mira AI post-processes the data and map the results back to individual points.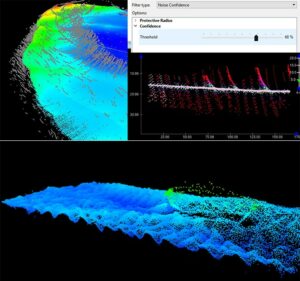 The Sonar Noise Classifier is the first offering to leverage the power of CARIS Mira AI's 3d point cloud processing and machine learning capabilities. It is designed to provide a better alternative to manual noise cleaning of large survey datasets collected by modern hydrographic surveying platforms such as UUVs, AUVs and USVs equipped with sophisticated multibeam sonars.
Taking advantage of the latest developments in Deep Learning for processing survey data as well as Teledyne CARIS' work with some of the world's largest hydrographic data producers, the Sonar Noise Classifier significantly reduces the need for manual cleaning. Trained to identify a wide variety of noise patterns from acoustic sensors, use of this solution reduces manual cleaning effort by a factor of up to 10x at an accuracy of 95%.
The Sonar Noise Classifier's sophisticated algorithm assigns values for all soundings, representing the system's level of confidence that the sounding is noise. Users can adjust the confidence threshold value to reject soundings as required. The Classifier's Subset editor can be used to review noise classification values with intuitive visualizations coloured by confidence level.
To find out more about Teledyne CARIS and their AI-based processing and optimization software for marine GIS survey data, please visit their profile page:
https://www.unmannedsystemstechnology.com/company/teledyne-caris/