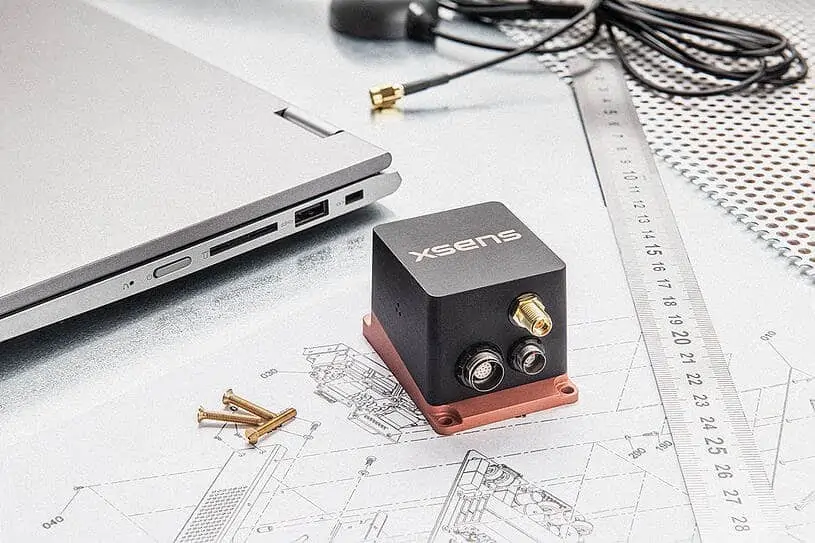 Xsens has launched the MTi-680G, an integrated GNSS-aided Inertial Navigation System (GNSS/INS) module that features centimeter-accurate positioning capability, an internal RTK (Real-Time Kinematic) GNSS receiver, and synchronized 3D attitude (tilt, inclination) and heading outputs. Designed for high-speed applications such as drones, robotics and unmanned systems, the MTi-680G provides comprehensive positioning and navigation outputs at rates of up to 400 Hz.
The MTi-680G's integrated RTK capabilities reduce the maximum positioning error from around ±1m in standard commercial GNSS receivers to a typical ±2 cm, synchronizing global position coordinates with the module's attitude, heading and velocity outputs. Upgraded firmware substantially accelerates the module's internal signal processing compared to non-RTK modules, and allows adaptive performance for optimized operation in a variety of different environments.
Each MTi-680G is fully and precisely factory-calibrated, and provides high immunity to magnetic interference. Development kits and free MT Software Suite developer tools are available to aid evaluation and systems integration into end products.
Boele de Bie, CEO of Xsens, commented: "Centimeter-accurate positioning at an affordable price for commercial applications – this is the promise of the new RTK-compatible MTi-680G product. From seed-sowing agricultural robots to autonomous cargo ships, a whole new generation of applications is now possible thanks to the centimeter-level accuracy of the MTi-680G's position measurements."
Watch the video below for a demonstration of the high-accuracy positioning that can be achieved with the MTi-680G: