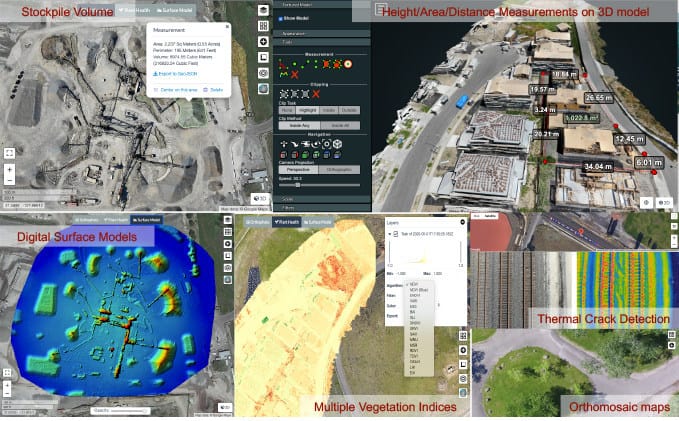 DroneInch has launched version 3.0 of its AI-powered drone automation software, featuring new analytics capabilities for gathering vital insights from collected data and reducing the time taken to obtain actionable information. The DroneInch SaaS (software as a service) platform handles the entire drone operations lifecycle, allowing organizations to plan thousands of flights remotely, operate autonomously while maintaining compliance and safety, analyze results using an AI-powered analytics engine, and collaborate globally through annotation and task flow creation.
DroneInch has been designed to meet the scale, automation, analysis, and collaboration needs of large-scale industrialized operations that may fly tens to hundreds of missions every day. The mobile application allows global flight planning with an Outlook-style calendar for scheduling recurring flights, with industry-specific flight patterns. It supports from one pilot up to hundreds of individuals located around the world, and allows for different ecosystems including single owners, contracts, service providers and franchises.
The software performs automatic checks for compliance and local weather, with integrated country-specific authorization for restricted areas. It features one-touch operation for automated takeoff, terrain-aware flight, and crash-free landing, with reliable automation for repeatable, error-free flights.
Data is uploaded from the drone to the AI-powered cloud analysis workbench for rapid results and insights. The platform performs integrated industry-relevant analysis such as orthomosaic, volumetric, Normalized Difference Vegetation Index (NDVI), 3D models and more. Outputs can be exported in industry-standard formats to third-party partners.
Seamless workflow-based collaboration allows scaling from a single person to multi-stakeholder operations, with annotation, approval, and task management capabilities, as well as automated flight and maintenance logs for compliance. The software can handle multi-company, multi-level authorization (admin/operator/reviewer) for owner-operator and service provider models.