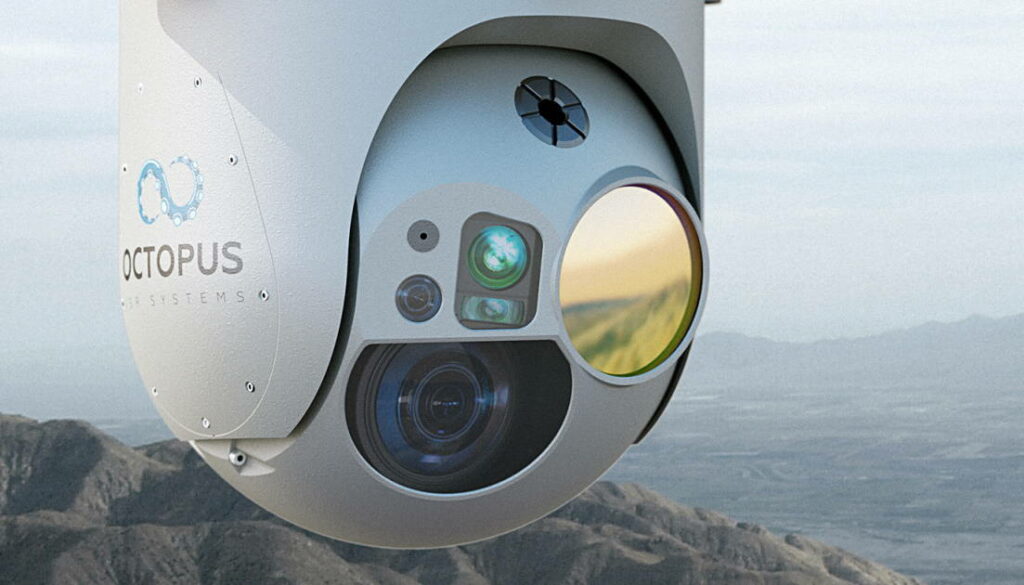 Octopus ISR Systems has launched the Epsilon 180, a state-of-the-art Full HD electro-optical and mid-wave infrared (EO/MWIR) camera payload featuring integrated laser range finder (LRF) and laser pointer. The system is designed for airborne ISR (intelligence, surveillance and reconnaissance) applications and is ideal for unmanned aerial vehicles (UAV) used for border control, battlefield reconnaissance, and a variety of other military and civil missions.
The Epsilon 180, featuring Full HD 30x optical zoom, global shutter EO sensor and 15x optical zoom MWIR, provides exceptional daylight imaging, improved MWIR performance and extended LRF range of up to 20km. The powerful onboard processor delivers advanced features such as software image stabilization in three axes, automatic target tracking, and moving target indicator.
The Epsilon 180 offers improved image quality with stabilization performance of less than <50 uRad RMS. The ISR payload also integrates a high-performance inertial navigation system (INS) for geopointing and real-time target geolocation. The system's rugged and lightweight design is optimized for demanding applications, with a dry gas-filled sealed structure that enables it to operate even in harsh weather conditions. The advanced magnesium structure is highly resistant to shock and rapid acceleration.
The payload can be installed in either nose- or belly-mounted positions, providing installation and design flexibility for OEMs and system integrators.