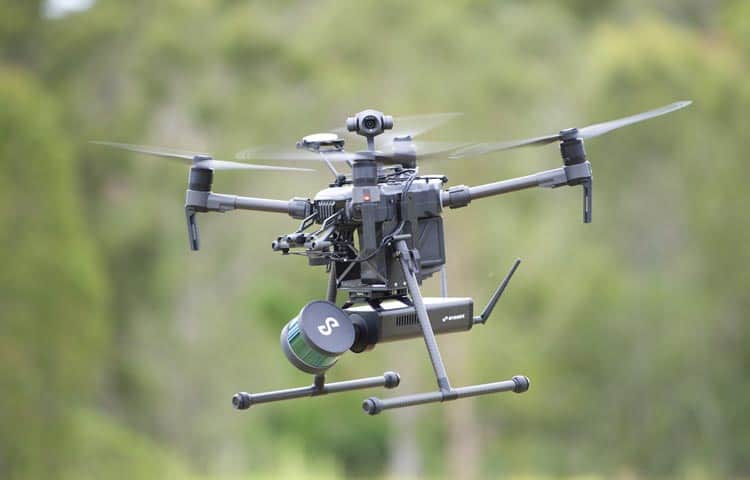 LORD MicroStrain, a manufacturer of miniature inertial sensors for UAVs (unmanned aerial vehicles), unmanned systems and robotics, has released the following article that outlines three types of sensors commonly used in drones – inertial measurement units, GNSS receivers, and LiDAR. The article was originally published on LORD MicroStrain's blog.
The drone market will grow to $43 billion by 2024, up from $14 billion in 2018. This is due to the increase in industries and sectors to which drones are now being applied. These applications include aerial photography, package delivery, agriculture monitoring, 3D mapping and entertainment. As the market grows, new applications will continue to evolve.
Initially, most drones either resembled model aircraft and were used for surveillance, or were full size aircraft designed as military long-range, high-altitude weapons and surveillance platforms. Relatively simple toys followed, with little or no onboard stabilization or capacity for payloads. In recent years, the flying capabilities of these small drones have improved significantly, making them safer, smarter, more stable and easier to control. As a result, they have evolved from toys to controllable aircraft capable of carrying cameras for aerial imagery, surveillance, and broadcast applications.
One of the key factors in this improvement has been the use of high-performance micro-electro-mechanical system (MEMS) sensors. MEMS technology enables miniaturization, mass production and cost reduction of many sensors, and the market for this technology is growing fast. This prospect is of great benefit to micromanufacturing firms who make many key components that assist today's UAVs in flight and aid them in handling challenging missions.
Tiny MEMS sensors can be integrated into larger systems that are still very compact themselves, making them suitable for small flying machines. For example, the 3DM-GX5-25 is a miniature attitude-heading reference system (AHRS) featuring MEMS sensors. One version of the device combines an accelerometer, a gyro, a magnetometer, temperature sensors, pressure altimeter, and an onboard processor in a package measuring only 36.0 mm x 36.6 mm x 11.1 mm. The 3DM-GX5-25 is the smallest and lightest precision industrial AHRS available.
A related trend is the integration of multiple UAV instruments to boost functionality as much as possible in a single system. Such instrument integration can eliminate some of the enclosures, connectors and cabling needed by UAV systems, significantly reducing their size, weight and cost. LORD Microstrain's 3DM-GX5-35 adds multi-constellation GPS/GNSS capability to a drone's navigation toolset.
Below is an outline of three different types of sensor commonly used in UAVs and drones to enhance the operation of the vehicle or to gather data.
Inertial Measurement Units (IMUs)
IMUs fuse together information from different sensors to provide measurements that can be used to calculate attitude, position and velocity of the UAV. The sensors that make up an IMU are:
Gyroscopes – determine the rate of rotation, or angular velocity and tilt
Accelerometers – determine linear movement along any axis
Magnetometers – indicate the direction of the magnetic field to verify heading
GPS/GNSS-Aided Sensors
GNSS signals can provide more precise location information for unmanned systems operating above ground, and allow drones and robots to navigate and maneuver around complex environments. The 3DM-GX5-45 is a complete high-performance GNSS-aided inertial navigation solution with a multi-constellation receiver that is compatible with GPS, GLONASS, BeiDou, and Galileo satellite constellations.
Light Detection and Ranging (LiDAR)
LiDAR systems measure the reflection time of a pulsed laser beam for navigation and collision avoidance purposes as well as for mapping and other imaging applications. While MicroStrain does not make LiDAR systems, our sensors can provide timing coordination with LiDAR data, for more precise location control.