Airmar Technology Corporation, a leading developer of acoustic and ultrasonic sensing solutions for unmanned aerial vehicles (UAVs), unmanned underwater vehicles/autonomous underwater vehicles (UUVs/AUVs) and unmanned ground vehicles (UGVs), has partnered with Unmanned Systems Technology ("UST") to demonstrate their expertise in this field. The 'Silver' profile highlights their ultrasonic technologies for superior surveying capabilities at great depths, as well as their rugged, compact ultrasonic weather stations for vehicles and fixed sites.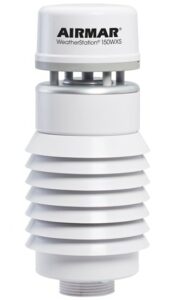 The 110WX is a rugged weather multisensor designed for stationary land-based applications such as UAV ground control stations and launching areas. Featuring IPX4 or IPX6 rated ingress protection, and with no moving parts, the 110WX delivers high-reliability wind speed, angle, air temperature, barometric pressure and optional relative humidity readings.
The 150WXS provides reliable, accurate site-specific weather data, including ultrasonic wind measurement, air temperature, barometric pressure and relative humidity outputs. This all-in-one multisensor incorporates GPS for time-stamping and location, as well as a compass for providing true wind data. The rugged, maintenance-free construction makes the 150WXS ideal for remote installations or as part of a network of stationary or deployable sensors.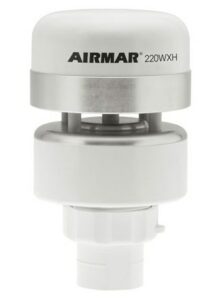 The 220WXH is a durable, feature-rich weather multisensor for land and marine vessels and platforms. Incorporating a thermostatically-controlled heating system for operation even in icy conditions, it features rugged IPX4 or IPX6 construction for excellent reliability in harsh environments.
The 220WXH calculates theoretical wind speed and direction based upon apparent wind as well as vessel speed and heading. The internal 10Hz GPS and three-axis electronic compass provide heading, position, speed over ground and course over ground functionality, and the three-axis gyro and accelerometer deliver high-accuracy rate of turn and pitch & roll measurement.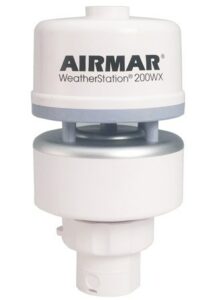 The 200WX-IPX7 is a marine and offshore weather multisensor designed to provide accurate data to enable operational decision-making for USVs, ASVs and other dynamic offshore applications. No moving parts and proven IPX7-rated construction enable reliable operation even in harsh sea conditions.
The 220WX-IPX7 calculates theoretical wind speed and direction based upon apparent wind as well as vessel speed and heading. In addition, the 200WX-IPX7 also features an integrated compass, GPS, three-axis gyro and accelerometer for high-accuracy rate of turn and pitch & roll measurement.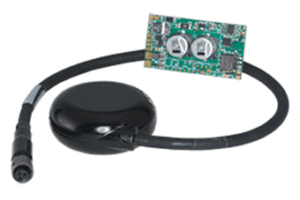 The 200m Mini Altimeter Kit Smart Sensor is specially designed for AUVs, ROVs and marine robotics platforms. The kit consists of a compact transceiver board to be mounted on the vessel's electronics chassis, and a separate transducer that can withstand depths of up to 1000m.
The subsea altimeter can be programmed to operate in manual or fully automatic sounding modes. In full auto mode, sounding rate is variable with depth, while manual mode allows a configurable rate of up to 10 times per second.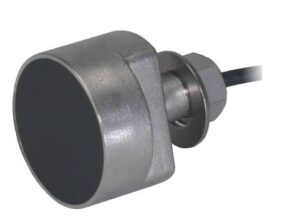 The 200 kHz EchoRange Smart Sensor is an ultrasonic underwater depth and temperature sensor that transfers its gathered NMEA 0183 data in real time to a computer via the RS422 standard. With embedded transceivers, sophisticated digital signal processing, and user-configurable depth range and ping rate resolution, it is ideal for applications such as inspection and hydrographic surveying.
The 200 kHz EchoRange+ Smart Sensor adds a bi-directional NMEA 0183 interface to the above sensor, and includes an OEM-exclusive Echo Envelope Developer Option. This provides a secondary transmit-only interface with a proprietary protocol using RS485, and allows users to obtain detailed echo envelope data which can be displayed as an analog waveform. Analysis of this data provides information about the seafloor type.
Airmar also provide a variety of single & multi-beam marine transducers available in various frequencies for marine surveying, echosounding and detailed sub-bottom profiling.
To find out more about Airmar and their acoustic and ultrasonic sensing solutions for unmanned systems, please visit their profile page:
https://www.unmannedsystemstechnology.com/company/airmar-technology-corporation/