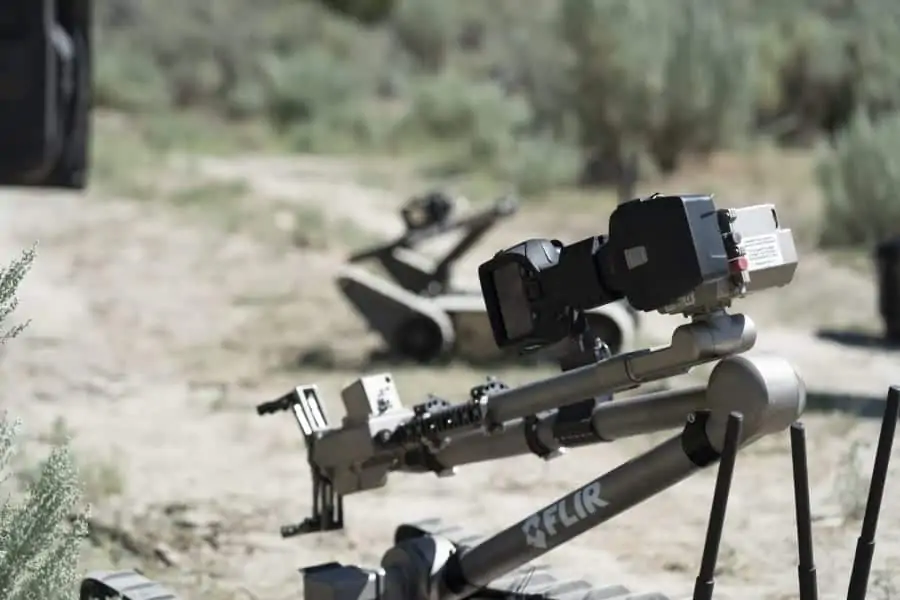 FLIR Systems has announced the launch of the FLIR Fido X4, the newest version of the company's advanced explosive trace detector that features a Hardware Integration Kit allowing the detector to be mounted on the company's Packbot unmanned ground vehicle (UGV). The Packbot is a man-transportable tracked robot that is widely used for bomb disposal, surveillance and reconnaissance, and hazmat operations.
The Fido X4 incorporates FLIR's TrueTrace detection technology and a new five-channel sensor array, providing highly accurate detection of a wide range of explosives at nanogram to sub-nanogram levels. Users can detect military, commercial, improvised, and homemade explosives in times as short as ten seconds. Combined with the Packbot UGV, the Fido X4 provides standoff threat recognition while minimizing the risk to operators.
With two 8-hour, hot-swappable batteries, the Fido X4 is capable of extended operations of up to 16 hours. It features a new simplified and intuitive user interface, with built-in video tutorials, user prompts, and color-coded alarms with strength indicators. Multiple connectivity options allow fast and flexible dissemination of critical data.
David Ray, president of FLIR Systems' Government and Defense Business Unit, said: "Our new Fido X4 is mission-ready for all critical security applications – from high-volume checkpoint and randomized screenings to foot patrols and standoff operations – going wherever it is needed. FLIR is committed to providing operators with intelligent sensing solutions that keep them out of harm's way. With thousands of Fido devices already deployed in more than 40 countries, the X4 builds on a legacy of success for military and public safety personnel worldwide."