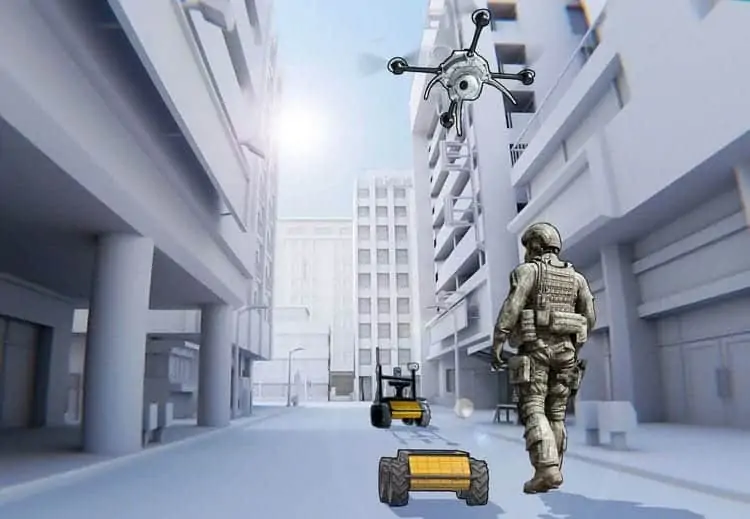 Northrop Grumman Corporation (NGC) has announced that it has tested its Rapid Integration Swarm Ecosystem (RISE) at the Defense Advanced Research Project Agency's (DARPA) second field experiment centred on its OFFensive Swarm-Enabled Tactics (OFFSET) program. The goal of the OFFSET program is to provide small-unit infantry forces with swarms of 250 or more small unmanned aircraft systems (UAS) and/or unmanned ground vehicles (UGVs) that support diverse missions in complex urban environments.
NGC is a Swarm Systems Integrator for the OFFSET program, and this second field experiment leveraged the command, control and collaboration capabilities of RISE in a mock city environment at Fort Benning, Georgia, demonstrating progress toward successful heterogeneous unmanned systems swarming. The human-vehicle teaming approach envisioned by OFFSET will enable swarm commanders to define a high level mission plan, monitor the mission, and make decisions based on new system-sourced information.
RISE is based on the Robot Operating System (ROS), an open architecture that enables the use of small, low-cost commercial off-the-shelf air and ground vehicles. This open architecture allowed NGC to integrate various capabilities developed by associate contractors, known as Swarm Sprinters. These associates includes Intelligent Automation, Inc, University of Central Florida, Heron Systems, Michigan Tech Research Institute, Soar Technology, Inc. and the University of North Carolina at Charlotte. Additional features contributed by the Swarm Sprinters included tactical robotic capabilities, enhanced sketch-based user interfaces, and self-healing task allocation in the event of loss of communications.
Vern Boyle, vice president of emerging capabilities, Northrop Grumman, commented: "Swarm technologies are vital to getting expanded situational awareness in a complex environment like the one in this test. Our unique applications of autonomous robotics and human-machine teaming for swarming enhances a warfighter's capacity and speed for information gathering and processing under a variety of conditions."