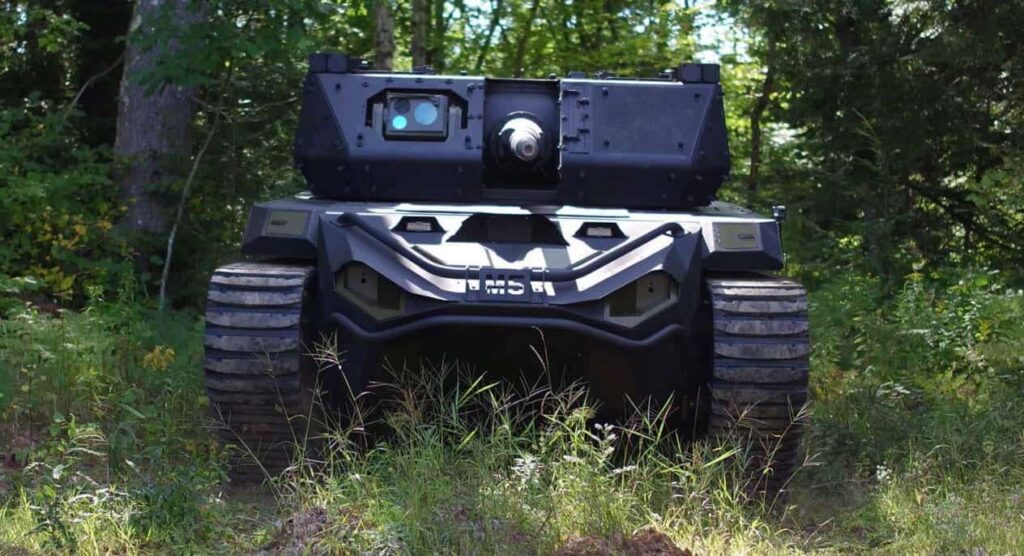 Textron Systems, Howe & Howe, and FLIR Systems have announced that the three companies, in a joint effort known as Team Ripsaw, have introduced a new unmanned ground vehicle (UGV) for battlefield applications, the Ripsaw M5. The vehicle is an entry for the U.S. Army's Robotic Combat Vehicle (RCV) program, which is soliciting designs from industry for UGVs that can aid soldiers in combat roles.
The modular Ripsaw M5, which is the fifth generation of the combat vehicle platform. has been designed with speed, mobility and harsh environment operation in mind. It includes scalable armor, suspension and drive options for flexible mission capability, and integrates real-time situational awareness systems, remote weapons stations and terrain engagement systems to provide the U.S. Army with a versatile state-of-the-art unmanned ground platform to support troops in a variety of situations.
Team Ripsaw combines Howe & Howe's extensive knowledge of purpose-built combat ground vehicles with FLIR Systems' unmanned technology expertise and Textron Systems' many years of autonomy and armored vehicle design, production, training and logistics experience.
President & CEO Lisa Atherton of Textron Systems, commented: "Bringing together Howe & Howe, Textron Systems and FLIR Systems really represents a dream team. We formed this team based on our shared focus to serve this customer with disruptive ideas and proven experience, and we are dedicated to meeting and exceeding their requirements through the RCV program. We are confident that the Ripsaw M5 is their ideal wingman, and that we can get these vehicles out into the field where they need them – quickly."
David Ray, President of FLIR Systems' Government and Defense business unit, said: "Incorporating our world-class intelligent sensors and unmanned assets on the Ripsaw M5 will provide a leap-ahead technology solution for the Army. From cameras delivering 360-degree situational awareness to surveillance gimbals, tethered drones and ground robots, we'll give our troops a tactical edge by keeping them on technology's edge."
Howe & Howe Senior Vice President Mike Howe said: "My brother Geoff and I founded Howe & Howe with the single, clear objective of safeguarding our nation's warfighters. This drive led us to develop the fastest tracked vehicle in the world, and we've applied that same spirit and purity of innovation to the Ripsaw M5."