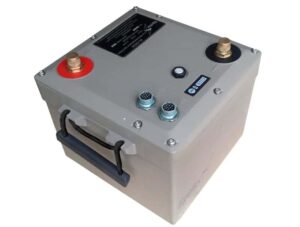 Epsilor, a manufacturer of mobile energy products, has announced that its ELI-52526 Lithium Ion 6T battery, which is designed for ground vehicles including UGVs (unmanned ground vehicles) and tactical robotics platforms, has completed an all-terrain field test over distances totalling more than 3,000km onboard Israeli Defense Force armored vehicles. The battery will be exhibited by Epsilor at the DSEI defense trade show in London.
Since its release, the battery has been adopted by 10 different customers globally, who have tested it on board Main Battle Tanks, Armored Fighting Vehicles , Light Reconnaissance Vehicles and others. The batteries have also been deployed as energy banks for mobile shelters.
The ELI-52526 is a 4.2 kWh battery that Epsilor claims provides the highest energy density currently on the market. It can withstand 1,000 deep discharge/charge cycles and a cold crank start of 1,100A at ambient temperature of -19°C. It features self-heating capability, as well as integrated high current charge management that enables the battery to operate with high power alternators without disconnecting due to high inrush current. This feature also makes the battery suitable for legacy vehicles lacking mission computers and thus external battery management.
Find suppliers and manufacturers of Battery Packs and BMS for UAVs >>
"Recent testing with several users and different vehicle types confirmed the technical and operational benefits derived from the replacement of legacy lead-acid 6T batteries with Epsilor's Li-Ion 6T battery," said Ronen Badichi, President of Epsilor-Electric Fuel. "As a drop-in replacement for existing batteries in legacy vehicle fleets, the integration of the ELI-52526 battery is smooth and straightforward. There is no need to modify anything in the vehicle. A battery is installed, and the mission continues as usual."
The field trials tested the operation of the battery and confirmed its safety in different types of terrain and weather conditions. "We have learned a lot from the more successful tests as well as from less successful ones," added Badichi. "As a result, we were able to refine our product, and can now proudly report that our 6T batteries passed the most demanding tests with high scores and with a very distinguished safety record."
In the near future Epsilor also expects to release the first pre-serial units of a new version of the 6T family, based on LiFePO4 (LFP) battery chemistry. The new product will provide an energy capacity of 2.85kWh (110Ah),and 3,500 deep discharge cycles, aiming toward a 15-year maintenance-free operational life.