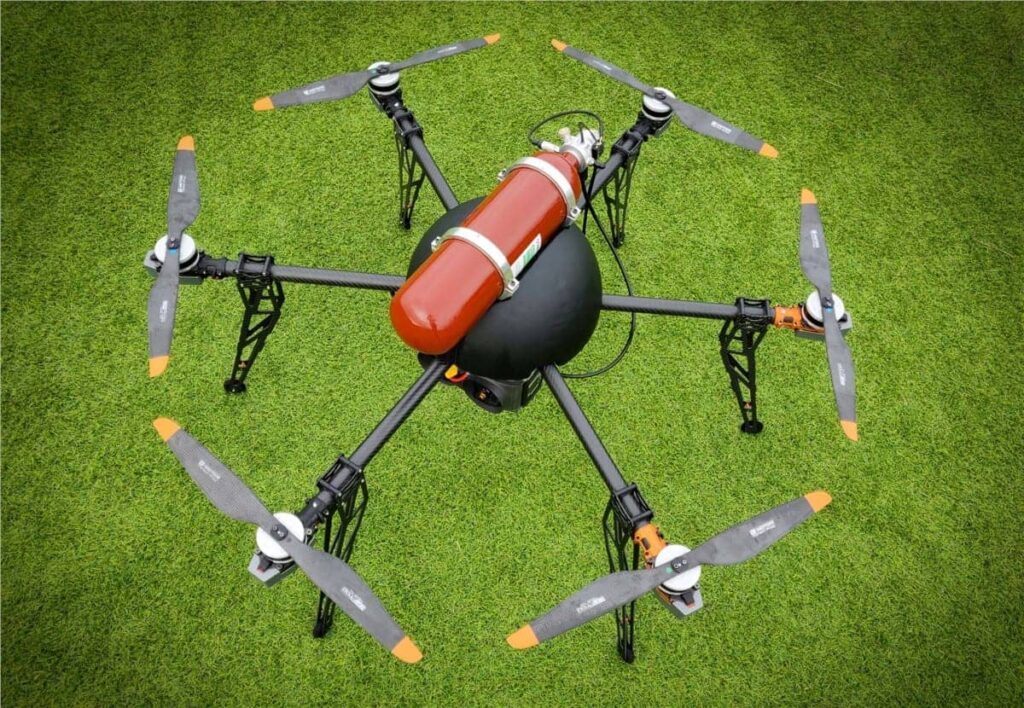 The Royal Netherlands Aerospace Centre (NLR) has announced that it has flown a drone in Dutch airspace powered by hydrogen. The flight, performed at the NLR's testing centre in Marknesse, represents the first time that this has been done outdoors in the Netherlands, and is part of an investigation into sustainable aviation.
NLR has gained additional insights into research and development of alternative fuels for sustainable aviation, and hopes that other interested parties will be able to replicate its results in order to further safe hydrogen-powered UAV (unmanned aerial vehicle) flight in the Netherlands. The Dutch navy is already developing a hydrogen-powered drone for flights above sea, and the close co-operation with DroneHub Groningen Airport Eelde means that their drone will also be approved by NLR shortly.
The drone used for this test flight was a hexacopter platform weighing eight kilograms with a two-litre, 300 bar pressurised tank filled with hydrogen gas. This tank is connected to a fuel cell that reacts the hydrogen with oxygen from the air in an electrochemical process that produces electricity and only water vapour as an emission. This power system, in additional to being locally carbon-neutral, provides the drone with a greater flight endurance than using only a battery. For safety reasons, the drone is also equipped with a backup battery that allows it to continue flying in the event of power loss from the fuel cell.
Martin Nagelsmit, the Electric Flying programme manager for NLR, commented: "The drone's power is 2 kW. The next planned step for hydrogen-powered flying is quite a bit bigger: 15 kW. Ultimately, NLR is aiming for emission-free aviation by no later than 2070. Hydrogen power can play a major role in this. So we're starting by making that possible for drones. In addition, we are demonstrating a concrete step in the agreements that the aviation sector has made for reducing CO2 emissions by 35% by 2030, as well as in the agreements in the draft accord for sustainable aviation."