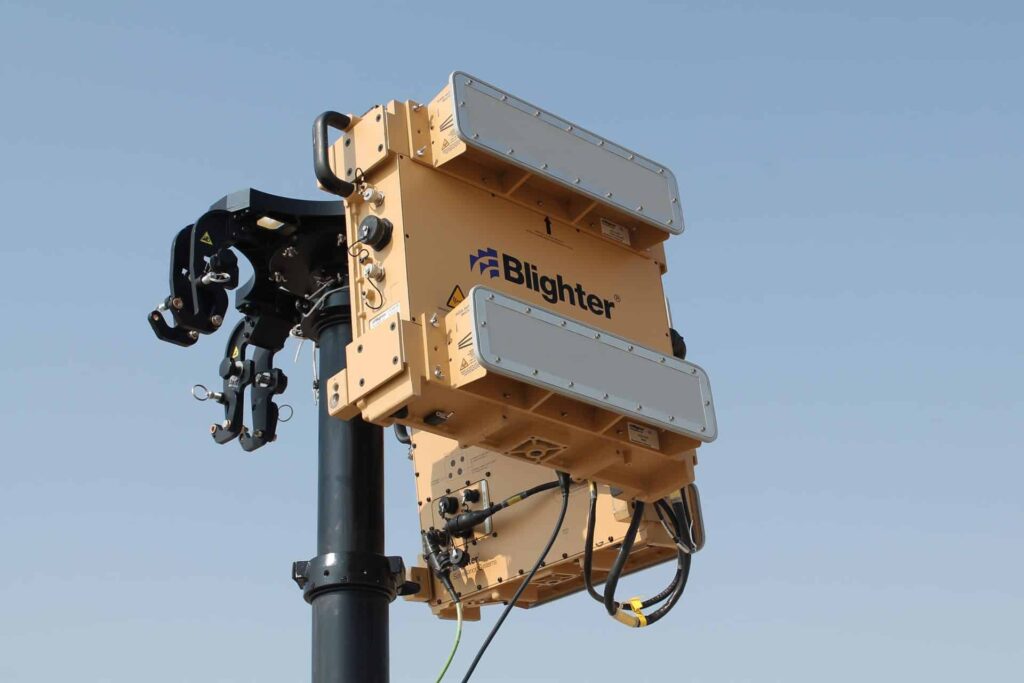 Blighter Surveillance Systems, a designer and manufacturer of electronic-scanning (e-scan) radars and counter-drone solutions, has announced that it has upgraded its Blighter A400 series counter-drone radar to provide enhanced detection and reporting of slow-moving, low-flying and small unmanned aircraft systems (UAS).
New additions to the system include 40° antennas, D3 (digital drone detection) technology and an adaptable DSP (digital signal processing) platform. A software development kit is also available to aid integration of the radar with other hardware such as sensors, C2 systems, and kinetic and non-kinetic disruptors.
The new antennas increase vertical elevation coverage from 30 to 40 degrees, and the added D3 technology allows the system to better extract the tiny radar reflections from modern plastic bodied drones even when flying close to the ground or near buildings where clutter reflections are relatively large. The DSP technology helps the system deal with moving ground objects, thus enabling the radar to be deployed on moving platforms.
Angus Hone, CEO of Blighter Surveillance Systems, commented: "Countering the threat caused by rogue drones is now a global issue and an increasing concern for the military, government and homeland security forces across every continent. Our Blighter A400 series radars are battle proven as the detection element of the strategic counter-UAS AUDS system deployed since 2016 in Iraq by US forces and more recently at London Gatwick Airport."
Find suppliers and manufacturers of Anti Drone and CUAS Technology >>
The rugged solid-state A400 series radars use power-efficient PESA (passive electronically scanned array) and FMCW (frequency modulated continuous wave) technologies to detect small UAVs with payloads including video cameras, wireless communication systems, narcotics and explosives. The radars detect and report Nano, Micro and Miniature drones at ranges from 10 metres up to 3.6 km (2.2 miles) and larger drones and aircraft at ranges up to 10 km (6.2 miles) at a variety of speeds.
Mark Radford, co-founder and chief technology officer (CTO) at Blighter Surveillance Systems, said: "Our symmetric transmit/receive e-scan architecture allows pin-point focus in complex cluttered environments and its use of 'Ku Band' spectrum with 2cm wavelength is ideal for interaction with small drones. What's more, our e-scan technology combined with micro-Doppler signal processing allows us to manage clutter on-the-move yet still detect low, slow and small threats in the air and on the ground."
Blighter Surveillance Systems will be exhibiting its radar and counter-UAS technologies at the DSEI expo in London.