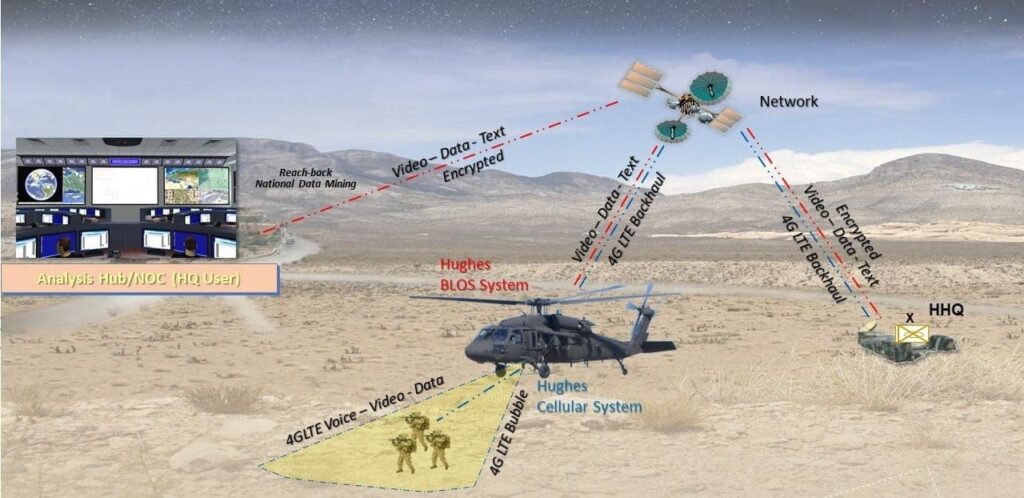 Hughes Network Systems, a provider of broadband satellite networks and services, has announced that it has partnered with Virtual Network Communications to develop joint solutions to extend mobile network connectivity using an integrated combination of VNC's deployable LTE technology with Hughes JUPITER and HM satellite systems. The new solutions will be installable on Unmanned Aerial Vehicles (UAVs) to effectively form airborne cell towers.
"We're excited to work with Hughes to help expand high speed 4G services cost-effectively in underserved parts of the world, as well as providing the tactical edge for military and first responders," said Mohan Tammisetti, chief executive officer of VNC. "VNC developed this innovative, edge-centric approach to positively impact lives and keep critical missions connected. Additionally, a new 5G solution is on our development roadmap and we look forward to integrating it with the Hughes JUPITER platform."
The new Hughes HeloCell Solution is designed to provide wireless coverage for soldiers and first responders using Beyond Line of Sight (BLoS) communications with rotary-wing aircraft. It will extend cellular coverage radius by tens of kilometers, using a satellite terminal to transfer mobile traffic to and from the network core. It will also be scalable to support more than 100 simultaneous active users on a single, layered system architecture.
"Adaptable for rotary-wing aircraft and UAVs, the HeloCell Solution is ideal for extending mobile connectivity in a disaster area or warzone," commented Wayne Marhefka, senior director of business development for Hughes Defense Division. "Together with VNC, Hughes can extend connectivity to soldiers and first response teams who need wireless communications to carry out their missions, especially in remote and disconnected environments. Integrating with our innovative HM and JUPITER Systems technology, these new cellular capabilities will help the DoD build a layered and unified communications network architecture for faster and more-informed decision-making."
The combination of VNC LTE technology and the JUPITER System can also be used by commercial mobile network operators to provide 4G access in areas with limited or no terrestrial connectivity, such as remote or hard-to-reach regions. The system is capable of sending 4G LTE traffic to the core network at speeds of 200 Mbps.
"An economically efficient way for mobile network operators to reach new customers is by backhauling 4G LTE traffic over satellite in areas where it's too expensive to build terrestrial infrastructure," said Vinay Patel, senior director, International Division at Hughes. "Now, we can offer VNC's innovative 4G LTE technology integrated with our Hughes JUPITER™ System to offer operators a new and cost-effective option to expand their networks."