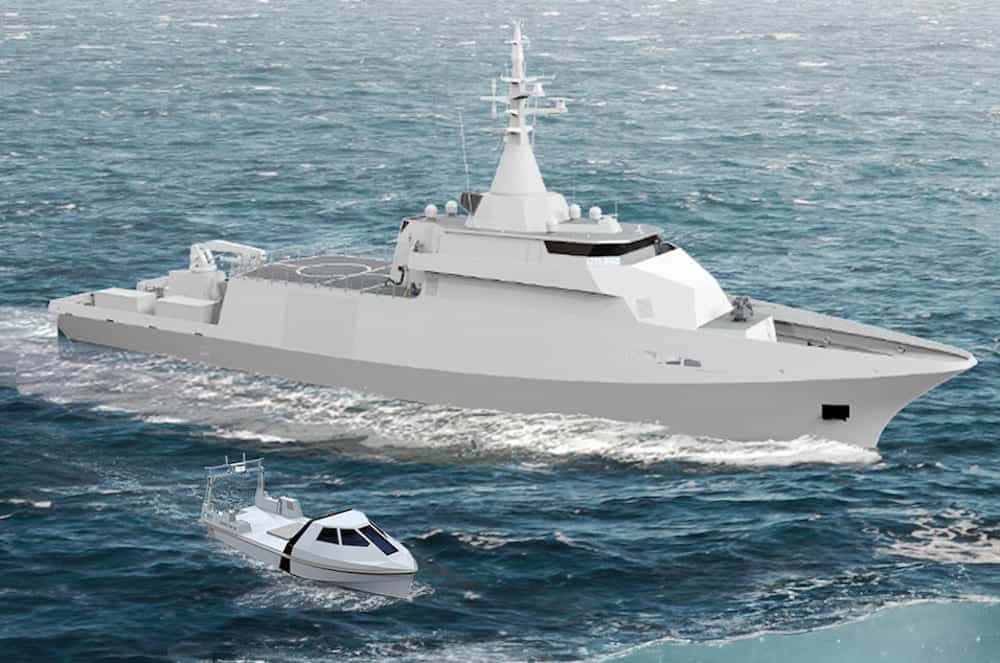 The Belgium Naval & Robotics Consortium, composed of the companies Naval Group and ECA Group, has announced that it has been awarded a contract to supply twelve mine-hunting vessels to the Belgian and Dutch navies. Equipped with a total of approximately 100 unmanned vehicles, across ten different platforms, six ships are destined for the Belgian Navy, while the other six will be delivered to the Dutch Navy.
Belgium Naval & Robotics, with Naval Group's recognized expertise, offers a 2800-ton militarized ship specialized in mine warfare with military characteristics (acoustic and electromagnetic discretion, shock resistance) perfectly adapted to the operational uses targeted by the Belgian and Dutch navies. In particular, this vessel incorporates a launch and recovery system for ECA Group's inspector 125 unmanned surface vehicles (USV). This robust and reliable system ensures the safety of operators and protects the ship, the USV and its payloads, while offering a high level of mission availability.
The unmanned systems on board these vessels are the latest generation of robotic vehicles developed by ECA Group over the past four years. They are integrated into the C2 MCM UMISOFT system, which in turn is connected to the Naval Group's I4drones platform, to form the mine-warfare mission system.
The solution includes, among others, A18-M autonomous underwater vehicles (AUV), T18-M towed sonars and Mine Identification & Destruction Systems (MIDS) composed of SEASCAN and K-STER C remotely operated vehicles (ROV). All these vehicles can be operated autonomously from the USV Inspector 125. The robotic system also includes unmanned aerial vehicles (UAVs) and influence sweeps.
Containerized and equipped with handling and communication systems, the mine-hunting drone systems can also be airlifted and deployed directly from the coast without a ship.
ECA Group's share of this program represents approximately 450 million euros. The 10-year program will start with a design phase that will last approximately 3 years before the production and delivery phases of the drone systems.
As the Belgian Navy is a reference in underwater mine clearance within NATO, this contract is a major asset for export. As with the tripartite mine-hunter program 40 years ago which generated sales of self-propelled PAP robots in several dozen navies in 20 years, this success in Belgium should generate many commercial export benefits in the coming years. ECA Group is already in discussions with several navies for the supply of robotic mine-hunting systems.