Dynautics, a leading developer of intelligent marine technologies, has partnered with Unmanned Systems Technology ("UST") to demonstrate their expertise in this field. The 'Silver' profile highlights how their state-of-the-art vehicle control algorithms and associated electronics can provide innovative solutions to complex autonomy challenges for USVs (unmanned surface vehicles), AUVs (autonomous underwater vehicles) and ROVs (remotely operated vehicles).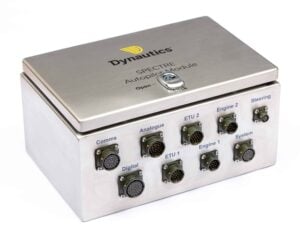 The Surface SPECTRE remote control autopilot for USVs is a turnkey system designed to facilitate operation of a wide range of autonomous and remotely controlled surface craft. Configured as standard to control a single engine vessel via a standard electronic throttle actuator and hydraulic steering pump, it is easily reconfigurable to meet the needs of a variety of craft and to provide additional functionality including interfacing with navigation systems.
The SPECTRE is ideal for vessels up to 15 metres in length and can handle speeds ranging from 1 kt to over 50 kts. It is equipped with advanced sensor data fusion and adaptive autopilot algorithms, aiding stability at high speed and resulting in straight tracks and highly accurate waypoint following. It can be paired with a robust and waterproof SPECTRE Remote Joystick, that allows remote control typically up to a range of 400m.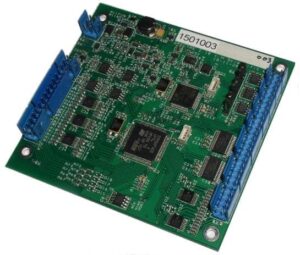 The Underwater SPECTRE subsurface autopilot is based on the SPECTRE autopilot board and is designed for a wide range of UUVs, AUVs and ROVs. It has been successfully incorporated on agile underwater vehicles such as mine countermeasure systems as small as 1m in length, and Work Class ROVs weighing 5 tons.
A remote operator, located on land or on a support ship, can visually track the progress of a vehicle on screen and control the vehicle's heading, speed, track, attitude and depth/height. Communications can take place via a physical tethered data link, by RF or satcomms when surfaced, or via an acoustic link such as the Sonardyne 6G.
The MicroSPECTRE is a miniature-format version of the SPECTRE autopilot, designed for both surface and subsurface unmanned systems with more stringent SWaP (size, weight and power) constraints. Capable of controlling a twin-engine vessel, the MicroSPECTRE features the same autopilot algorithms and capabilities as our flagship SPECTRE system. Connectors may be mounted vertically or at right angles to suit space requirements.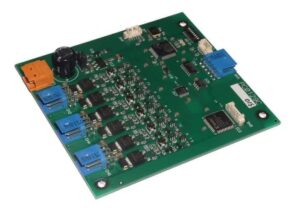 The standalone Power Management Module (PMM) allows the SPECTRE autopilot to independently control power to six 12V channels at up to 2.4A each, with a maximum overall capacity of 10A. The RS-422 control bus allows up to 8 PMMs to be daisy-chained together and controlled by a single host, providing up to 48 channels and 80A. Options are available for higher currents and/or higher bus voltages.
The PMM is ideal for maritime unmanned systems with low power budgets that require precise control of power consumption. Applications including turning on an AUV or USV's scientific sensors for a set amount of time each day or when a waypoint is reached. Each channel has a preset trip current level which may be changed at runtime. The system can monitor peak and average currents.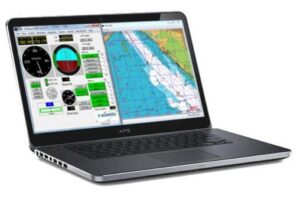 The Ship Sim 3 simulator models the behaviour of a large range of unmanned surface vessels using sophisticated mathematical models to calculate aero and hydrodynamic forces, propeller blade forces, wave forces and lift effects. Individually modelled sensors transmit output data serial and Ethernet, and simulated vehicles can be fully tested with hardware in the loop.
The AUV Sim simulator provides a framework for building and configuring simulated underwater vehicles from small AUVs to large Work-Class ROVs. The software allows designers to build up components such as body elements, actuators and thrusters in a flexible and modular manner before testing and evaluation. AUV Sim can also be used as a test harness, under the control of the autopilot, providing hardware-in-the-loop testing.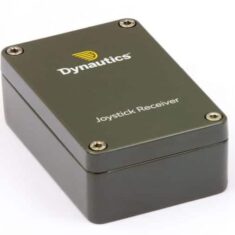 Dynautics' 2.4GHz modems accept RS232 or RS422 input and are ideal for pairing with the Dynautics Joystick, which provides fast, accurate control with low latency for precise manoeuvring of large USVs. The modems are also used for carrying the SSSCP (SPECTRE Secure Serial Communications Protocol) command and control datalink for short range applications of up to 400 metres line of sight.
Dynautics provides UHF modems by leading manufacturers such as RF Datatech, SATEL, and GE, operating in the 400 to 500 MHz frequency bands (including licence-free bands in the UK and other countries). These modems carry the SSSCP protocol at ranges of up to 20km line of sight, for reliable USV control and communication.
Dynautics also provides GSM modems – the GSM communications architecture provides command and control for a variety of marine unmanned systems applications, allowing operator workstations to be located anywhere with internet access. Operators log in to a central hub, enabling multiple workstations to observe the mission simultaneously and easily hand over control.
Dynautics uses the Iridium satellite network, via the RUDICS system, to provide extreme long-range command and control, data retrieval and bidirectional communications with worldwide coverage. Vessels used for scientific research and a variety of other applications can be piloted remotely far beyond the range of conventional radio modems.
To find out more about Dynautics and their marine electronics for unmanned systems, please visit their profile page:
https://www.unmannedsystemstechnology.com/company/dynautics-ltd/