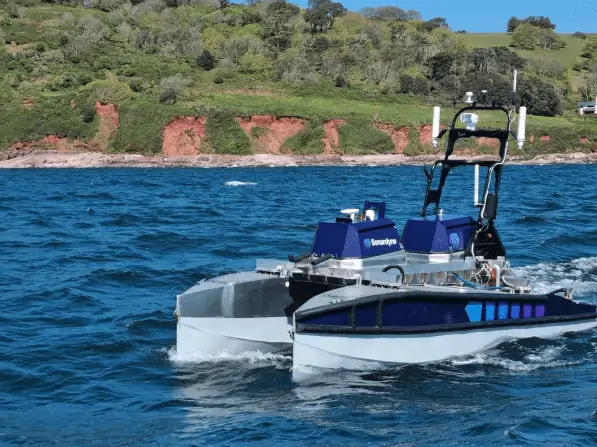 Dynautics worked on a collaborative project with HydroSurv and Sonardyne International to demonstrate extended range unmanned operations using a hybrid powered vessel.
The REAV-60 Unmanned Surface Vehicle (USV) from HydroSurv, named USV Decibel, successfully completed its first sea trials for Sonardyne at Smart Sound Plymouth, UK in early May 2022, a key milestone for the project partners.
For trusted and persistent over-the-horizon capability, a hybrid system utilizing a Fischer Panda generator and battery pack combination was identified as the most reliable means of propulsion.
Optimizing the power management system was vital for this project so that the REAV-60 could operate in clean air zones. To do this it needed to be able to enter these areas with fully charged batteries for zero emission operation.
Dynautics developed an interface that communicated with the vessel's two electric motors and monitored the battery bank and generator. The team developed multiple control modes using an algorithm to control generator operation dependent on mission requirements.
Prior to the sea trials in Plymouth, comprehensive simulation testing was carried out by the Dynautics team which laid the groundwork for a successful day on the water.