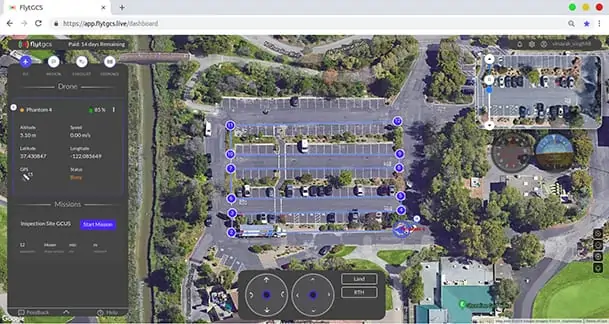 FlytBase, an enterprise drone automation company, has announced the launch of FlytGCS, a cloud-based remote drone operations solution, at AUVSI Xponential 2019. With BVLOS capability at its core, FlytGCS is built for subject matter experts, drone operations managers and UAV operators who wish to automate, simplify and scale their missions.
UAVs will create significant business value as soon as drone fleets can fly BVLOS. Technologists, regulators, business executives and drone operators all expect the industry to soon progress towards remote, autonomous, cloud-based drone operations across geographies, sectors, and use-cases. To support the execution of such automated missions, and bring new insights to drone stakeholders, FlytBase has developed FlytGCS.
FlytGCS offers a wide range of features including connectivity and control over 4G/LTE/5G, live HD video feed, fleet management, unlimited missions and unlimited drone addition, remote gimbal control, pre-flight checklist and geofence, mission planner, and cockpit view from web-dashboard.
FlytGCS is a hardware-agnostic solution that helps securely deploy industry-standard drones over the cloud, for BVLOS operations, using a mobile app (for DJI drones) or onboard SBCs (for Ardupilot and PX4 drones). Add-ons like precision landing, fleet management, pilot team management and drone-in-a-box make FlytGCS a powerful and scalable alternative to traditional desktop-based GCS products.
"With FlytGCS, the power of autonomy is made available to drone operators, subject matter experts and service providers who can now seamlessly manage drones over 4G/5G networks, with best-in-class latency and live video quality," said Nitin Gupta, FlytBase CEO. "As a SaaS product, this FlytBase offering helps our customers get started immediately, for free, and upgrade to the feature set that is best suited for their business needs. Operators have used FlytGCS in applications ranging from construction management and security/surveillance operations to emergency response and utility/asset inspections."