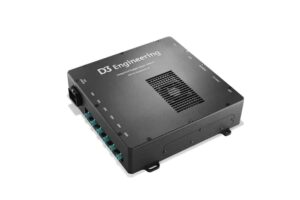 D3 Engineering, a developer of embedded electronic OEM products, has announced availability of its DesignCore NVIDIA Jetson RSP-TX2 Development Kit for rapid development of autonomous and deep learning applications. D3 is an NVIDIA Jetson Preferred Partner for camera development, and utilises the Jetson camera toolchain to develop high-performance embedded vision systems.
The kit features an NVIDIA Jetson TX2 processor and six high-speed SerDes inputs (FPD-Link III or GMSL2) for vision and spatial sensors. It has Wi-Fi, Bluetooth, Gigabit Ethernet, and USB 3.0 interfaces for control and data offload, and supports two independent HDMI displays. SSD and eSATA expansion enable hours of raw data storage.
The rugged aluminum enclosure and connectors are suitable for deployment in the field. The production-intent design enables faster transition from system design to deployment. Applications include artificial intelligence (AI) and machine vision for unmanned systems such as UAVs (unmanned aerial vehicles) and other robotic platforms.
Find Suppliers of Vision System for Unmanned Systems