AutoSens in Detroit have announced the launch of their conference program which takes place at the Michigan Science Center from the 14 – 16 May 2019. The program for the 6th AutoSens conference provides engineers with the perfect opportunity to network, discuss and debate the challenges that lie ahead for ADAS and autonomous vehicles.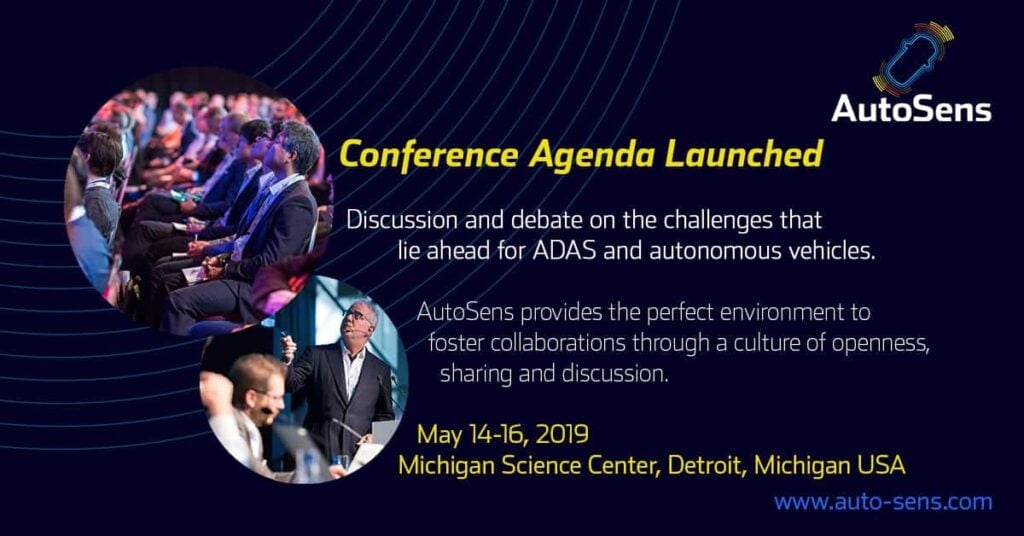 Fusing leading academic research, industry R&D and OEM insights, AutoSens in Detroit is a practical learning tool for engineers as well as a first-class networking experience. The conference dives into the US automotive market delivering invaluable updates for an international audience of 450+ technical experts and engineers.
With in-depth workshops, roundtable discussions, vehicle demonstrations, conference sessions and an exhibition of the latest technology showcases; AutoSens provides the perfect environment to foster collaborations through a culture of openness, sharing and discussion.
AutoSens is known as the leading vehicle perception conference, including sensing related to vehicle occupants, a topic of growing importance. The program at this year's Detroit conference features three pioneering presentations covering in-cabin monitoring. Attendees will hear from Daimler, Aptivand Guardian Optical Technologies on what they are doing in the field of intelligent driver sensing and how this contributes to improved vehicle safety.
Another agenda feature includes a dedicated mapping and localization session, an area of the industry being discussed more frequently than ever. Showcasing five of the most innovative mapping companies working to improve HD maps for vehicles.  HERE, TomTom, CARMERA, WaveSense and lvl5are all taking part in a rapid-fire session to give the audience a comprehensive view of the developments in this sector.
The session will be rounded-off with a discussion, led by Phil Magney of VSI Labs, on what could be a hotly debated topic surrounding the role mapping will play as we move towards full autonomy. Researchers expect that self-driving cars could eventually become less dependent on maps, as LiDAR sensors improve enough to allow them to navigate their environment. What will their role be in the future? Will this or should this influence their development now?
If you're looking for the latest technical insight into vehicle perception challenges, the AutoSens community of engineers can provide the answers.