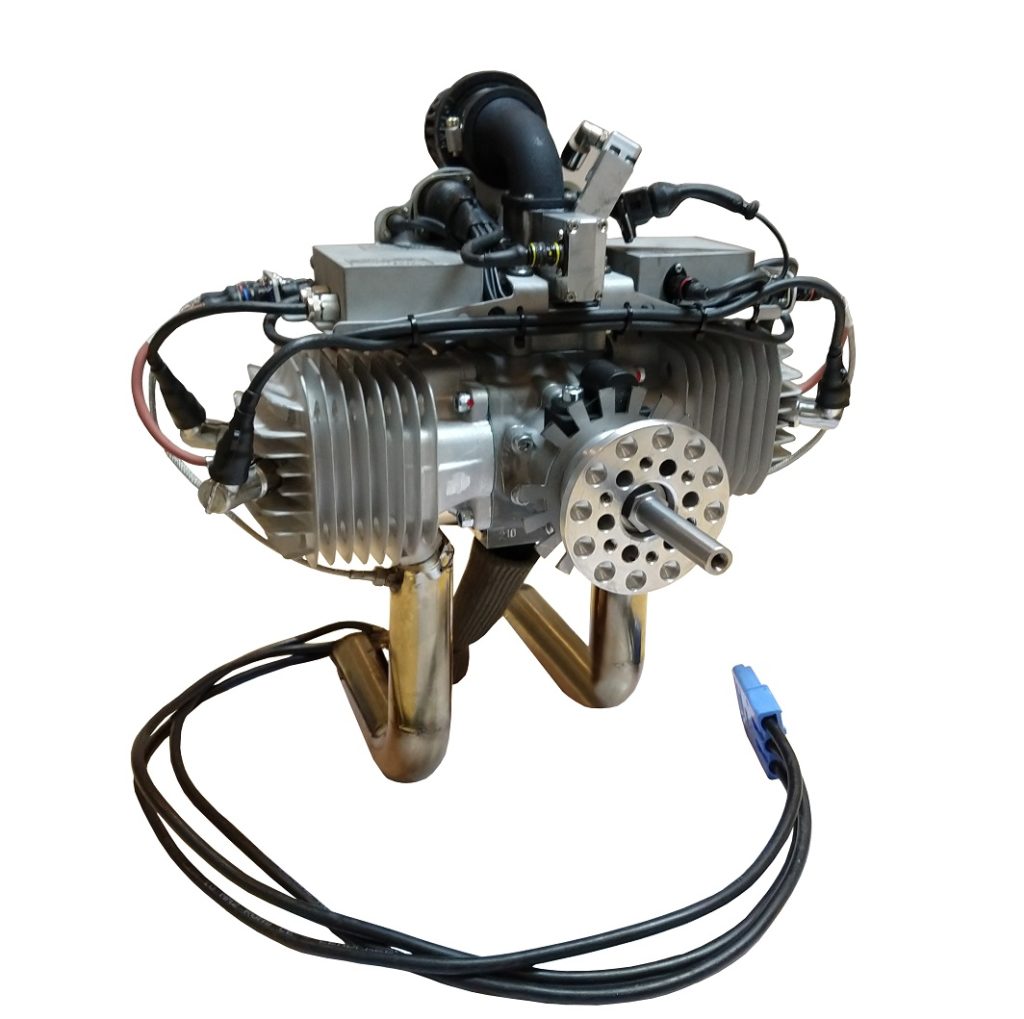 Sky Power GmbH has announced the launch of its newly developed 2-stroke engine for unmanned aerial vehicles (UAVs), the SP-210 FI TS. The new engine is based on the same concept as the recently released 110cc SP-110 FI TS, and can also be provided with or without a system carrier.
The SP-210 FI TS outputs a maximum of 8.2 kW at 5000 rpm. Its system carrier is mounted above the cylinders along with the two electronic systems of the HKZ215 ignition system and the ECU030 fuel injection system.
All data lines of the sensors, which gather engine data at a variety of measuring points and transmit these to the ECU030, are bundled on the system carrier. In the event of faults the system carrier can be completely dismantled, together with the injection system. A new system carrier with all modules and data cables can then be mounted and fastened to the engine. Due to the passive ignition system, which is controlled by the ECU030, the engine will be operational again after just a few minutes.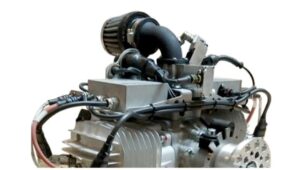 "Consequently, the engine is extremely user- and maintenance friendly," explained Karl Schudt, CEO of Sky Power GmbH. The engine is equipped with plug connectors from racing as standard. Plug connectors according to MIL specifications are possible as an option. At the request of the customer, the system carrier can also be left out – this option will require longer cables and more complex integration of the engine.
As with the SP-110 FI TS, Sky Power gave special focus to enabling extremely smooth running of the SP-210 FI TS, as well as aiming to achieve a fuel consumption as low as possible.
"Just like with the SP-110 FI TS, our theoretical calculations proved to be true. The dynamometer tests verified the fuel requirement specified by us. At 5000 rpm this is about 480 gr/HP/hour. Consequently, with this engine we will also satisfy the demands of our customers, who are searching for efficient and fuel-saving drive solutions," added Schudt.
The SP-210 FI TS is available as a petrol engine. A Heavy Fuel (HF) variant is due to follow.