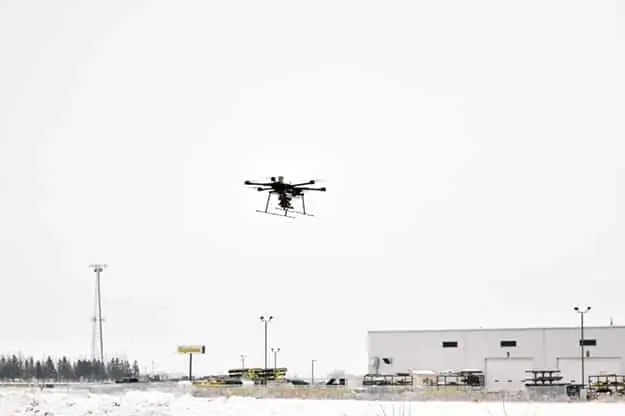 The University of North Dakota, along with research partners from Harris Corporation and the Northern Plains Unmanned Aircraft Systems Test Site (NPUASTS), have announced that they have achieved the first-ever test flights over a specially developed UAS (unmanned aerial system) network of technologies that opens the skies for broad commercial use of drones.
The North Dakota-based Harris UAS Network, which combines detect-and-avoid capabilities developed at UND and UAS technology solutions and services from Harris, is a system of integrated ground infrastructure that enables commercial UAS to fly much farther and safer beyond the visual line of sight (BVLOS) in national airspace. Currently most long-range UAS operations are greatly limited because pilots must be in constant visual contact with their unmanned aircraft.
The new North Dakota network keeps watch over a 55-mile-long corridor between Grand Forks and Fargo, representing the drone industry's first-ever implementation of wide-area, multi-user UAS BVLOS airspace, according to researchers at UND's Research Institute for Autonomous Systems (RIAS).
The successful flights, which took place about a mile west of Hillsboro in the Red River Valley of Eastern North Dakota, tested the Harris UAS Network's ability to provide UAS pilots with airspace awareness to stay well clear of manned aircraft and other objects. The network is enhanced by locally deployed sensors for both cooperative and non-cooperative (radar) surveillance as well as integration of the Federal Aviation Administration's (FAA) NextGen UAS surveillance data feed.
Mark Askelson, interim executive director of UND's RIAS and an expert on the use of radar technology, said the successful test flights in North Dakota are a big step toward unleashing a multi-billion-dollar industry for unmanned capabilities.
"A lot of the technology was developed at the University of North Dakota, so this is a huge day and a very big deal for us as well as for our partners at Harris and the Northern Plains UAS Test Site," Askelson said.
Chris Theisen, director of research and development for the NPUASTS, said the UAS network is part of a North Dakota Department of Commerce ResearchND project that grew out of prior UAS research collaborations between UND, the NPUASTS and Harris.
With the deployment of the Harris UAS Network, Theisen and his crew have an important job. They're executing the test flights and monitoring the effectiveness of the technologies that make up the network.
"These tests signify the start of operations on the network, which is the first one anywhere that's been deployed for multi-user commercial applications," Theisen said. "It's a significant milestone in the development of the commercial UAS industry — in our country as well as globally — and we're proud that it took place right here in North Dakota."
The Harris UAS Network in North Dakota got another shot of momentum recently when North Dakota Gov. Doug Burgum showed his support by recommending $30 million to develop statewide infrastructure supporting UAS BLVOS operations.
"The idea is that what we're doing here with Harris and the Northern Plains UAS Test Site will serve as a template to build out to other locations in the state and then across the country," Askelson said.
Harris, a developer of air traffic management solutions for the FAA, was drawn to North Dakota because of the UAS research talent that exists at UND as well as the extensive technical and operational expertise and resources of the NPUASTS.
"The deployment of the Harris UAS Network system in North Dakota is a historical milestone for the commercial drone industry and is a major step forward toward widespread use of these advanced technologies. It demonstrates the leadership of North Dakota in attracting UAS research, entrepreneurship and investments," said George Kirov, vice president and general manager, commercial UAS solution with Harris Electronic Systems. "As the network infrastructure extends across the state it will facilitate broad adoption of UAS, allowing governments to better serve their communities and making the leading industries of North Dakota more productive and competitive in the global marketplace."
Once fully operational, the Harris UAS network, together with the airspace authorizations above it, will represent the most advanced test bed in the country for UAS research and development. A more formal unveiling and demonstration of the UAS network is planned for Spring 2019.