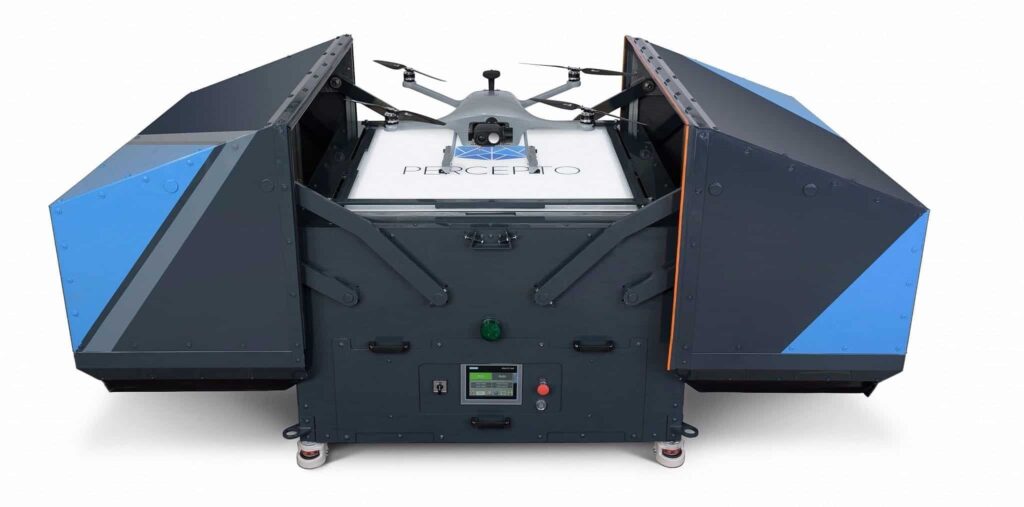 Percepto Robotics has announced that it has employed machine vision algorithms in its proprietary Sparrow drones as part of its complete autonomous drone-in-a-box system. This differentiating technology makes its drones fully autonomous; capable of operating based on what they 'see' rather than follow predetermined GPS coordinates. Percepto's Sparrow drones can deploy in complex environments where conditions might change from mission to mission.
For this development, Percepto was awarded the 2018 Global Enabling Technology Leadership Award by Frost & Sullivan.
"Percepto has developed a solution for varying sectors (e.g., industrial, petroleum, and nuclear power-plant) to provide more than just technology but a value-added solution that can help users lower expenses," said Mike Blades, Research Director at Frost & Sullivan. "In response, Percepto moved away from a pure technology offering to create a robust drone-in-a-box solution, where the drone can wholly detach from a pilot and perform missions 24/7. The solution uses machine vision to fly to and from specific sites for difficult missions such as person and vehicle tracking, as well as anomaly detection."
Percepto also addressed the need for high computing power in machine vision-based drones by developing PerceptoCore, a hardware module that supports machine edge vision for real-time navigation. This system powers the Sparrow drone to enable 7/24/365 operations. The drone's capability to monitor continuously can potentially save clients millions of dollars in emission fines and penalties for not adhering to proper maintenance standards.
Significantly, Percepto does not have to customize the system for its clients; instead, every client can use the system differently based on their needs. This versatility helped the company acquire clients from a variety of verticals such as utilities, port and sea terminals, and industrial sites. Additionally, the Sparrow is IP65 rated, a rating usually only found on military drones, certifying it for use in snow, rain, dust, heavy winds, and extreme temperatures.
"Our assessment of the market shows that Percepto offers several benefits over its competitors. For instance, its solution weighs 250 kilograms, while the competing solutions can weigh up to 2.5 tons. It has all payloads on deck, meaning that all the sensors needed by the drone to perform its duties are fixed on the drone. This design does away with the need to change payloads in a multi-step process, greatly reducing system complexity resulting in lower acquisition and operational costs," noted Blades. "In the future, Percepto plans to create additional and unique sets of applications that will allow the end user to increase site productivity in a range of market verticals."