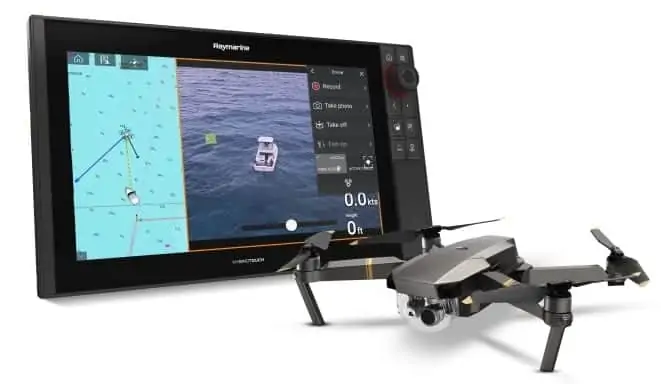 Raymarine has announced the launch of Axiom UAV, a new unmanned aerial imaging app for Raymarine's Axiom, Axiom Pro and Axiom XL multifunction displays (MFDs). The new LightHouse 3.6 OS update for Axiom MFD also offers integration with DJI Mavic Pro drones.
The Axiom UAV app automates many common tasks including launch, airborne imaging, in-flight navigation, and return-to boat. Fishing and cruising boats alike can benefit from having this added aerial imaging platform integrated onboard.
Features include:
Scout for fish in the water ahead of the boat. When fitted with an optional polarized lens, the Mavic Pro's 4K UHD camera system can see gamefish, baitfish, weed lines, sandbars, reefs and more. This technology allows smaller boats many of the fish-scouting advantages once limited to boats of a very specific size and cost.
Axiom UAV's Fish-On feature instantly launches the UAV, starts video recording, and automatically flies the camera in an orbit around the boat. Convenient on-screen controls let users fine-tune the UAV's altitude, orbit radius, orbit speed and camera angle from the screen of the Raymarine Axiom or Axiom Pro.
View imagery on the Raymarine Axiom or Axiom Pro MFD screen. Shoot video, take still images, and capture other imagery visible from the air, all easily saved to Mavic's onboard memory card.
Fly to points of interest, waypoints, or chart locations. Use the UAV GOTO command on the Axiom or Axiom Pro chartplotter screen to send the UAV out on a mission. Using GPS navigation, the Mavic Pro will fly to the precise location selected and hover on station. While airborne users can see the UAV on a navigation chart along with its course, speed, altitude and camera orientation.
The Axiom UAV app offers multiple options to control the Mavic Pro in flight, including an automatic "Return to Boat" feature. In addition to the automatic flight modes, Axiom UAV also offers virtual on-screen joysticks for manual flight. Users can also take control at any time with the DJI Mavic Pro joystick controller.