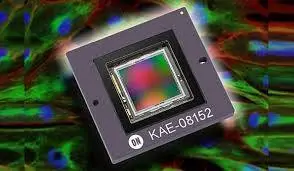 FRAMOS has announced that it is distributing ON Semiconductor's latest EMCCD image sensor, the KAE-08152, which captures critical imaging details with 8 MP resolution and enhanced NIR sensitivity in lighting conditions from sunlight to starlight.
ON Semiconductor has launched the newest model of its successful Interline Transfer EMCCD KAE sensor line, for high-quality imaging in extreme low-light conditions. The KAE-08152 is a 4/3" imager with 8.1 Megapixel resolution that provides increased Quantum Efficiency, specifically for NIR wavelengths. The low-light imaging performance of this sensor makes it ideal for unmanned systems surveillance and monitoring applications.
Sub-lux imaging is enabled by interline Transfer EMCCD technology. Each of the sensor's four outputs incorporates both a conventional horizontal CCD register and a high-gain EMCCD register, resulting in exceptional low-light imaging performance. The KAE-08152's quantum efficiency (QE) is doubled at approximately 850 nm compared to the standard KAE-08151 to provide enhanced NIR sensitivity without any decrease in the device's Modulation Transfer Function (MTF). An intra-scene switchable gain feature samples each charge packet on a pixel-by-pixel basis, enabling the camera system to route charge through the normal gain output or the EMCCD output depending on a user selectable threshold.
Sibel Yorulmaz-Cokugur, Sensor Expert at FRAMOS, said: "ON Semi's new KAE-08152 sensor enables imaging in extreme low light, even when bright objects are within a dark scene, allowing a single camera to capture quality images in widely varying conditions, from sunlight to starlight. Another image quality factor is the very low sub-electron noise for EMCCD. All features lead to excellent image uniformity, required in applications where high-sensitive image recognition makes the difference."