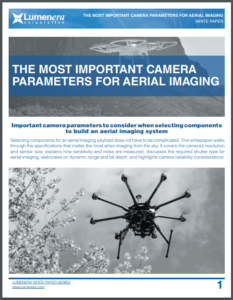 Lumenera, a developer and manufacturer of high-performance digital cameras and OEM imaging solutions, has released a whitepaper discussing important camera parameters that should be considered when selecting components for an aerial imaging system.
The whitepaper covers camera resolution and sensor size, and explains how sensitivity and noise are measured. The paper also discusses the required shutter type for aerial imaging, elaborates on dynamic range and bit depth, and highlights camera reliability considerations.
Read the full whitepaper to find out more (opens PDF in a new window).
Ground sampling distance (GSD) is an important factor in aerial imaging and is determined by the aircraft's height above the ground, the focal length of the lens used, as well as the pixel size of the sensor. Understanding the importance of pixel size and sensor size in dictating ground resolution and the field of view is necessary in order to select the correct lens and camera for a specific aerial imaging task.
For a detailed understanding of the various parameters that should be taken in to consideration when selecting a camera for an aerial imaging system, read the full whitepaper here.
Learn more about Lumenera's high-performance UAV Cameras and Imaging Systems, or contact their team of imaging experts.