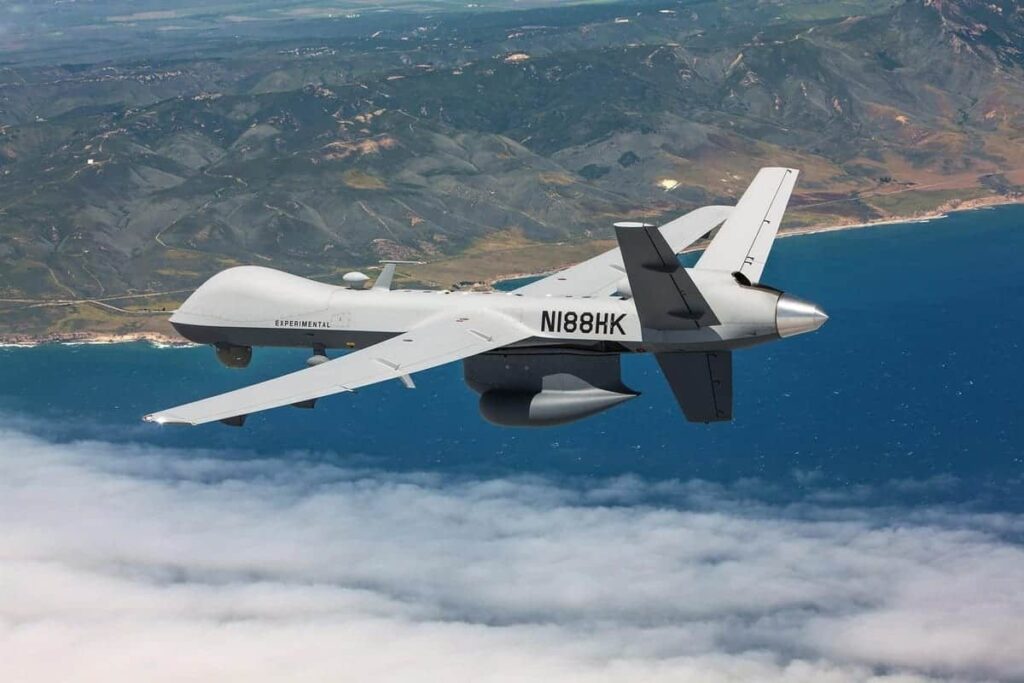 Leonardo and General Atomics Aeronautical Systems, Inc (GA-ASI) have announced that the two firms have signed an agreement that will see the companies jointly investing to integrate Leonardo's SAGE electronic warfare surveillance system onto the GA-ASI MQ-9B unmanned aerial system (UAS). Upon successful completion, SAGE will be integrated into the MQ-9B airframe without the need for an external pod(s). SAGE will be offered off-the-shelf and integrated into the airframe as an available baseline configuration for MQ-9B customers of Sky Guardian and maritime surveillance Sea Guardian configurations.
SAGE is a digital ELINT (Electronic Intelligence) sensor with a built-in 360° RWR (radar-warning-receiver) capability. It is used to detect, identify and geo-locate Radio Frequency (RF) signals, such as radar fire-control systems, and can alert operators to potential threats to the aircraft. SAGE can identify the location and parametric data of specific RF emitters from a single platform, enhancing the tactical electronic intelligence picture and situational awareness. SAGE is already in service with the South Korean Navy, Brazilian Navy and Indonesian Air Force.
SAGE will be integrated into the MQ-9B airframe, as opposed to being fitted via an external pod. This fit will deliver optimal performance (with least obscuration compared with a podded solution) while maximising space for other weapons/sensors as the system will not occupy any underwing hard-points. The lack of an added pod for the ESM capability also reduces the platform mass of the equipped MQ-9B, maximising endurance.
Alongside SAGE, Leonardo's portfolio of advanced sensors perfectly complements the MQ-9B platform in its Sky Guardian and Sea Guardian configurations. With SAGE as the first stage of this on-going partnership, Leonardo and GA-ASI will work together to evaluate other 'roll-fit-kit' options, suited to specific mission roles, which can be proposed to customers including the UK. The MQ-9B has been designed in such a way to comply with the stringent airworthiness certification requirements of various military and civil authorities, including the UK MAA and CAA and US FAA, meaning that future customers could include civil organisations.
For all customers, the data inside electronic warfare equipment is just as important as the equipment itself. When threats change, users need to be able to keep equipment up to date. Leonardo's expertise in the electronic warfare domain allows it to offer a dedicated Electronic Warfare Operational Support (EWOS) facility, boosting the effectiveness of all its EW products and allowing domestic and export customers to keep EW equipment updated and mission-ready. Leonardo's EW products are open and programmable, enabling the use of existing indigenous EW data as well as evolving such databases with new threat parameters. Leonardo can provide EWOS as a managed service, or engage in knowledge-transfer to export nations to allow them to develop sovereign EW capabilities and expertise.