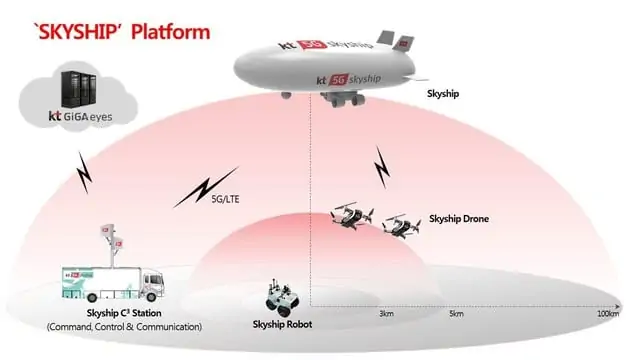 KT Corp., a South Korean telecommunications company, has unveiled a next-generation platform for disaster and safety management, in its latest effort to pioneer new businesses with its fifth-generation (5G) and information and communications technologies (ICT). The SKYSHIP platform operates a special unmanned airship and a mobile communication center to remotely control drones and robots that carry out search and rescue operations for disaster survivors. Rescuers on the ground are also assisted with augmented reality (AR) glasses that have a direct line of communication to doctors at nearby hospitals for assistance delivering emergency treatment.
The Korean telecom firm is gearing up to diversify its business as it prepares for the launch of the world's first nationwide 5G wireless network in 2019. KT's SKYSHIP platform also comes in time for South Korea's 1.7 trillion won (US$ 1.5 billion) nationwide public safety Long Term Evolution (PS-LTE) network.
"Over the past years, KT has pioneered technological innovations in the field of disaster and safety management in South Korea," said Oh Seong-Mok, president of KT's network business. "We will continue our efforts as the 'People's Company' to make the country safer and more secure with our advanced technological prowess, resources and know-how."
At a press briefing, KT demonstrated SKYSHIP in real time through a disaster simulation. The platform facilitated a remote search and rescue in conjunction with Ajou University Hospital's trauma center in Gyeonggi province, south of Seoul, and a local 119 emergency rescue team. The location of a disaster survivor was identified by the SKYSHIP platform, and a rescue squad then used AR eyewear to carry out necessary emergency procedures.
Through KT's LTE network, the rescue squad was able to instantly share data and communicate with renowned surgeon Professor Lee Guk-Jong — enabling the doctor to check the survivor's heath status and conduct remote treatments from the trauma center.
The SKYSHIP platform consists of four major components. These include the Skyship, a new-concept aircraft that combines an airship and a drone; the Skyship C3 (Command, Control, Communication) Station, a mobile ground control station; and the Skyship Drone and Skyship Robot.
The new aircraft is made of three main parts. There is an airship filled with helium gas; the Skyship Pod, which carries core hardware items including propellants, cameras, network modules and drones; and Signal scanning, which detects smartphone signals and synchronizes them with mobile carriers' customer database to identify personal information pertaining to survivors, such as names and ages.
Image scanning by Signal scanning, which uses an ultra-small LTE device, can check the presence of survivors within a 50-meter radius, thereby narrowing the search area for faster rescues. When survivors are detected, Skyship will deploy drones to pinpoint their exact locations. Robots will then be dispatched on the ground to deliver emergency relief items, relay information to rescuers and take first-aid measures until rescuers arrive.
If Signal scanning is integrated with the national registration and medical databases in the future, it could expedite first-aid treatment by immediately providing survivors' medical records – containing key information for survival, including blood types and pre-existing health conditions.
To help develop related industries and encourage a competitive industrial ecosystem, KT also plans to standardize the hardware requirements for Skyship Pod. Third-party manufacturers will be able to develop various network modules, cameras, drones and other installable products.
KT collaborated with local drone maker Metismake Inc. to develop its latest Skyship 2, an advanced version of its first Skyship. The new aircraft was designed in an airfoil developed by the U.S. National Advisory Committee for Aeronautics (NACA). It can fly up to six hours with a maximum speed of 80 kilometers per hour, withstand 13 meter-per-second winds and carry a payload of up to five kilograms.
KT owns some 680,000 kilometers of optical fiber across South Korea, of which 80 percent is underground — minimizing threats to communications from ground disasters. Such disaster mitigation is crucial for the rapid transmission of information during the "golden hours," the duration of time in which disaster victims have the highest chance of survival if found by rescuers.
Notably, KT owns extensive microwave networks covering island areas as well as satellite networks, which can provide network backup in emergency situations. All of KT's communications stations are designed to withstand earthquake tremors up to a 6.5 magnitude.
KT plans to complete an even better 5G-based disaster safety platform with the third version of the Skyship aircraft by 2020. The next platform will take advantage of KT's plan to launch the country's largest commercial 5G broadband network using 100 MHz in the 3.5 GHz band and 800 MHz in the 28 GHz band, acquired in the recent government auction for the 5G spectrum.
5G's hyper-connectivity and ultra-low latency will enable rescue and medical crews to work more effectively. For example, the 4K UHD video footage filmed by Skyship drones and robots, and transmitted through a 5G network, can enable a more accurate analysis of disaster scenarios. 5G can also improve remote control and command in real time, along with other applied services.