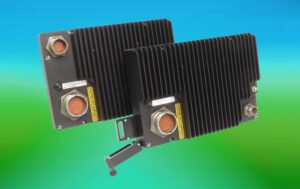 Aitech Defense Systems has announced a new version of its A172 low-power high performance rugged compact PC (RCP) with a removable storage module that meets DoD 5220.22-M for quick/secure erase. The 1 TB secure SSD offers MLC and SLC NAND Flash as well as a sustainable read/write speed of up to 400 MB/sec.
Available with three Intel processor options and two standard I/O versions, the modular A172 can be configured to handle several data processing environments, especially in high impact, space-constrained applications that need high throughput and secure storage. These typically include unmanned robotic ground and underwater vehicles (UGV/UUV) as well as unmanned fixed- and rotary-wing airborne UAV (unmanned aerial vehicle) platforms. The RCP can also be used in complete mission computers for these types of unmanned vehicles.
Find suppliers of Rugged Computing for Unmanned Applications >
The low-profile A172 is a compact 10.24″ x 7.09″ x 1.8″ (260 mm x 180 mm x 46 mm), featuring an Intel Core i7 or Xeon processor and multiple standardized modules. Easily customizable I/O, CPU, storage and operating system options enable the unit to be engineered for specific application requirements.
The RCP offers added design flexibility with DVI and RS-170A RGBHV video output options, optional WiFi and frame grabber video inputs as well as TPM (trusted platform management) and a 50 ms holdup option for increased system reliability. Designed using a standard Type 6 COM Express module, the flexible A172 can be customized with specific processor types for less complex system integration, which facilitates cost-effective technology insertion upgrades as needed.
Technical specifications:
Removable mass storage offers quick/secure erase (DoD 5220.22-M) and unrecoverable data destruct
SWaP-optimized at less than 5 lbs (2.25 kg) in compact, low-profile housing
Added reliability features include TPM and 50 ms power holdup options
Available in standard models or customized for specific applications.