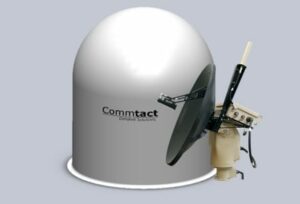 Commtact Ltd., a developer and manufacturer of communications systems, has unveiled its new wireless datalink maritime solution. The Maritime Data Terminal (MDT) has been designed to enable robust and reliable communication with platforms such as unmanned aerial vehicles (UAVs) and unmanned surface vessels (USVs) with precise auto-tracking capabilities in maritime environments.
The MDT was designed with a unique ruggedized 2-axis pedestal and the ability to integrate with the platform's Inertial Navigation System (INS), or with a standalone INS. The MDT enables accurate tracking based on GPS/RSSI. The INS unit allows tracking corrections in order to get maximum tracking capabilities under harsh sea conditions.
Commtact's MDT is a compact, fully autonomous, self-contained, ruggedized system enabling operation and reliable delivery of data even in challenging naval environments and conditions. MDT is compliant with MIL-STD and IP67. The system is based on Commtact's legacy AMLS (Advanced Mini Link System). It implements a link between the maritime platform's control station and any platform that is equipped with one of Commtact datalink products.
Shai Palti, Commtact's CEO, commented: "Commtact's MDT is a mature and reliable system, which enables accurate tracking based on GPS/RSSI. Based on Commtact's own developed technologies, the MDT is flexible, robust and precise, and thus ideal for operation in maritime scenarios. Commtact's high-end communication systems are installed on many different manned and unmanned platforms worldwide, allowing connection of any platform, anytime and anywhere."