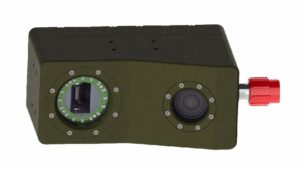 Newton Labs, a manufacturer of underwater laser scanners, has announced the introduction of its new M500UW, an ultra high resolution scanner that duplicates the high resolution scanning of Newton's existing M210UW but at depths of up to 500 Meters, adding to Newton's extensive line of subsea scanners.
The M500UW underwater laser scanner is specifically designed for capturing ultra high resolution metrology data and can be deployed on ROV and AUV submersibles. It can also be cable serviced for depths of up to 100 meters.
"The M500UW increases our extensive underwater laser scanning line that already stands as the most complete product offering of underwater laser scanners in the world," said John Bramblet, President of Newton Labs ."With the M500UW we've produced a plug and play product that will easily integrate with a variety of industry hardware and produce ultra high resolution scans at up to 500 Meters."
The M500UW easily interfaces with IMU (inertial measurement unit) devices, either integral to the ROV/AUV or exterior IMU systems. The scanner draws its power from the MUX or ROV/AUV and only requires 24VDC and GigEthernet from the MUX or ROV/AUV. The M500UWUW is depth rated to 500 Meters and is easily mounted on ROV or AUV submersibles.