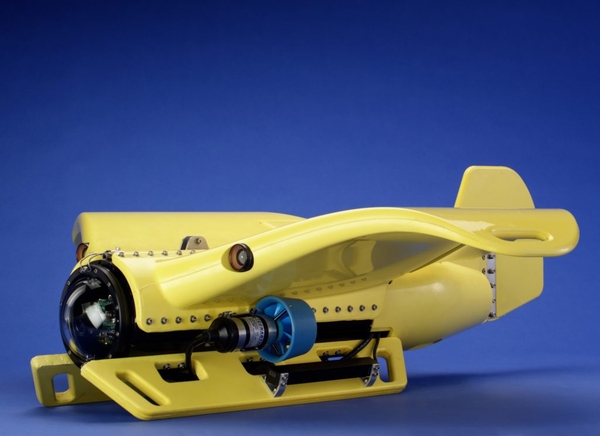 UAV Propulsion Tech has announced that it has signed a distributor agreement with Coral Partners to market their family of underwater marine remotely operated vehicles (ROVs). Nova Ray ROV's unique hydrodynamic features effectively use water flow rather than resistance to maintain operational control under changing operating modes. Under thruster power, the patented Arcuate Wings operate just as a high-winged airplane would in free flight. Under "controlled" tow, the Arcuate Wing, combined with the seamless shift in the center of rotation from the cable pull, produces a stable configuration suitable for a wide range of applications. Nova Ray is customizable and available in four standard configurations based on depth of use (305m, 550m, 1500m, 4000m).
UAV Propulsion Tech is a US company that markets German, Canadian, UK and Swedish unmanned aerial vehicle (UAV) technology into the global UAV market. These solutions include consumer off the shelf (COTs) and custom: propulsion, autopilot, servo/actuator, electric turbofans, pneumatic launchers, gyro-stabilized gimbals, fuel/engine sensors and rescue/recovery parachute solutions. UAV Propulsion Tech has also been working in the underwater submersible space by providing Volz submersible servos to underwater application customers in North America. Volz servos have been tested down to 4,000m water depth.
The inventors of the NOVA Ray ROVs, brothers Marc & Krist Geriene, are experienced commercial divers and ROV operators. Through this personal hands-on experience they conceptualized, prototyped, and developed numerous patented technologies essential for providing ROV stability and control, including both the Arcuate Wing and the tether/cable attach mechanism.
Marc Geriene, Coral Partners' CEO, commented: "We are very pleased to have developed a business relationship with Bob Schmidt and UAV Propulsion Tech. We see the synergy between our market and his as being complementary to both." He also added, "We look forward to collaborating on the introduction of several new products that leverage UAV Propulsion Tech's core strengths, and exploring a supplier relationship as well."
Tim McGuinness, Ph.D, Chief Marketing Officer at Coral Partners, said: "We are excited to bring on UAV Propulsion Tech as a distributor because of Bob's connections in the commercial and defense markets that could use Nova Ray for underwater exploration, particularly for pipeline inspection, underwater mapping, and exploration. Our new "AeroSub" product will also be a good fit for UAV Propulsion Tech because it will provide both aerial (overwater) and submersible capability."
Bob Schmidt, founder and president of UAV Propulsion Tech, added, "The addition of Coral Partners' Nova Ray ROV and future AeroSub expands our product solutions to cover both air and underwater applications. We have seen the expansion of the underwater market through the sale of submersible actuators from Volz Servos out of Germany. Mapping and surveillance from the air and underwater is a growing market and we are adding advanced technical solutions to best support this market.